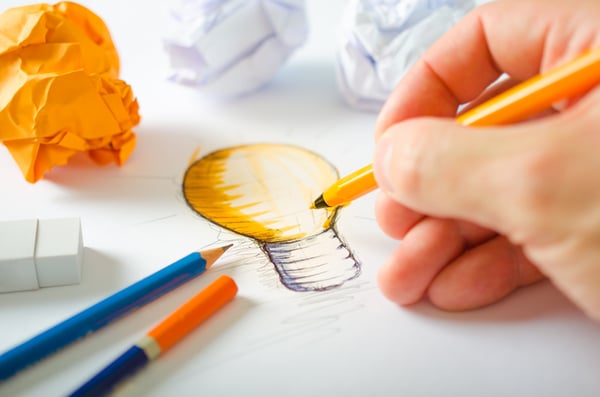 A custom hinge manufacturer should not just be a simple assembly line -- it should be a full-fledged partner in your process.
The benefits of working start-to-finish with a hinge manufacturer in the USA are numerous. But the relationship won't succeed without a strong engineering team on the contractor's side.
Nearly all of Weber Knapp's manufacturing processes are performed in-house. Why? Because we have the best design engineering team in our industry.
Here's some evidence -- and an inside look at the Weber Knapp motion control design engineering process!


Day in the Life of a Custom Hinge Manufacturer
A mechanical motion control engineering team should combine experience, expertise, and a desire to innovate.
Weber Knapp's team of five design engineers range in age from 30s to late 50s. (This staff of five is just a small slice of our overall engineering branch.) Every design engineer started his career at Weber Knapp training and working in every department to gain a full understanding of our manufacturing capabilities. That includes senior employee Mike Wisnieski.
"Mike did the whole drum smoker design work and assembly," Leila Bell, sales and marketing manager, says of Weber Knapp's most recent product launch.
So what's the day-to-day like for these heavy-duty hinge designers?
They communicate frequently with the customer's engineering team. This includes design overview, troubleshooting, and getting the information required to successfully make the assembly.


They spend plenty of time in the creative process, designing hinges and making sure they fit the fridge, grill, or other application they're built for.


They conduct all testing, whether it's testing standardized across all Weber Knapp projects or a specific customer request.


They build prototypes and prototype components to make sure a product is built to customer specifications.
One of the team members has a special role as a machinist. He works in the model shop, machining prototype parts and building fixtures.
Sounds fun, but what does it all mean for the customer? Perhaps that's best shown through a real-life success story.


Getting a Lost Project on Track
The greatest service a counterbalance or hinge manufacturer can provide is assisting in the design process. That's exactly how Weber Knapp separates itself from the conventional and ordinary.
"One of the most important things is their collaboration with the customer's engineering team," says Bell. "We … try to become an extension of our customer's engineering team."
One particularly crucial case was when a product maker came to us not with a new design, but with a current design in desperate need of revision. A faulty component in the company's vacuum chamber product had caused a user to lose a finger in an accident.
"They had a very heavy lid," Bell says. "Their hinging mechanism failed."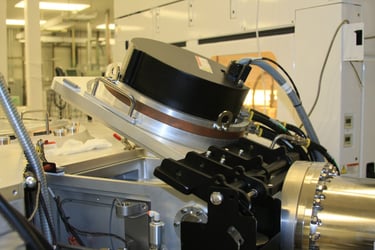 The product relaunch would require a complex hinge design, so the vacuum chamber maker turned to Weber Knapp for help.
"We had to make sure our design retrofit to this machine and the lid because it's such an expensive machine," Bell explains. "They didn't want to do any design changes on the outer shell."
The engineering team decided it needed to replace the old design's gas spring with a safer, more reliable mechanical spring hinge.
Complicating matters was the fact that Weber Knapp needed to ship those products to South Korea. Time zone and language barriers were persistent throughout the project. But thanks to Weber Knapp's dedication to communication, the project was a success.
They've now been purchasing that for more than 6 years," Bell says. "It turned out to be a good product for us."
A hinge manufacturing partner should listen to concerns and feedback not just from the customer's engineering team, but sales and marketing as well. Weber Knapp provides a direct line of communication to its engineering team to help foster a partnership and positive working relationship.
"The theme is collaboration, both externally and internally," Bell says.


Tools of the Trade for a Mechanical Motion Control Design Engineer
The latest SolidWorks CAD software gives heavy-duty hinge suppliers the best kit possible for turning a customer's idea into reality. Our engineering team can use this program to churn out:
3D solid modeling
Animations
Product renderings
Detailed charts
Single-source manufacturing is all about consolidating costs, communication, and lead time. We have our own model shop for building prototype parts and fixtures quickly, so delivery of a finished product can happen sooner. The Weber Knapp in-house testing facility is equipped for both static and dynamic product validation. Based on the results, we can optimize and validate your design.
As for the manufacturing tooling itself, the engineering team works with customers to decide on the tooling and manufacturing processes based on needs and budget. Clients can opt for low-volume, low tool cost production or high-volume, fully tooled production -- or anywhere in between.


Part of the Family
The design engineering team is just one slice of the comprehensive Weber Knapp engineering team. Other subdepartments include:
Manufacturing Engineering
Industrial Engineering
Quality Engineering
Operations
Leaning on an all-in-one motion control engineering team allows for superior control over products and lead times. The same engineering team that started the process continues to provide support through production, packaging, and more.
To keep communication and quality consistent, the design engineers work closely with the other Weber Knapp engineering departments. For example, they:
Work through processes on the shop floor with the manufacturing engineers
Help design fixtures
Help assemble products for launch
To make sure they understand the customer's big picture, the design engineers are also part of Weber Knapp's business development team. They attend trade shows, talking to customers and other engineers to gain insights on pain points and opportunities for innovation.
As you can see, communication is kind of our thing -- both inside and outside our facility! To learn more about the nuts and bolts of our operations, check out the handbook below: