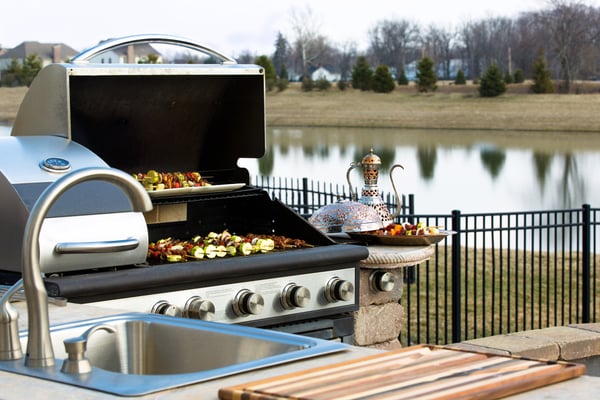 The outdoor kitchen is quickly becoming a popular addition to the modern home. Where homeowners used to simply flip burgers, they're now adding smokers, ovens, stoves, refrigerators, sinks, wine coolers, and more to their outdoor setup.
The outdoor kitchen is becoming a full-fledged entertainment space, and a source of pride for homeowners.
That's why designers are taking innovative approaches to small outdoor kitchen design, like adding counterbalancing and ergonomic design.
These unique applications are what set outdoor kitchens apart and define the space.


Must-Haves for Small Outdoor Kitchen Design
When you're designing any new kitchen or addition to a home, there's a lot to consider. Size, layout, color, to state a few.
The same applies for small outdoor kitchens, but we've narrowed it down to a few key points to include in your design:
Appliances
Ergonomics
High-end hinges


Counterbalance Hinges & Appliances
Counterbalance hinges increase ease-of-use and improve the flexibility of products. They make it possible to incorporate a variety of unique features into an outdoor kitchen.
Take, for example, how counterbalances can:
Convert a beverage bucket into a table
Turn outdoor bars into countertop pass-throughs
Open up the possibilities for compact designs
Think about fold-out furniture too, like fold-out picnic tables or extendable cutting boards. When you think compact, you can include a lot of features in even the smallest backyard.
Other appliances can benefit from counterbalance and motion control hinges:
Freezers
Ovens
Wine coolers
But how do custom hinges improve regular, ol' appliance design? Well, that's where ergonomics and physics come in.


Ergonomics | How to Build an Outdoor Kitchen
Upgrading the grill, refrigerator, oven, and main cabinets to counterbalance and motion control hinges can improve the efficiency and ergonomics of your outdoor kitchen.
These are the high-traffic items that homeowners will open frequently when cooking or entertaining, and they'll notice the difference that motion control and counterbalancing provides.
A counterbalance hinge on a heavy lid or door can:
Support the lid/door weight while you walk away
Reduce the effort needed to lift heavy lids and open doors
Close on their own without slamming the lid/door
Provide a smooth open/close motion that gives the feel of luxury
Appliances aren't the only place where you can incorporate ergonomics into your small outdoor kitchen design.
There are a few design principles for indoor kitchens that apply to outdoor kitchens, too -- the rule of three in particular. Think about where all the principal parts of the kitchen are located in relation to one another. Is the refrigerator in reach of the counter? The oven?
Placing everything in a compact area can increase your efficiency so you're not overextending to reach for the jar of pickles or trying to kick drawers closed from afar.


Use High-End Hinges in All Features
The typical outdoor kitchen costs at least $10,000 to $15,000, and clients don't want something "minor" like a hinge causing issues soon after their patio paradise is complete. Using high-quality hinges can not only elevate your design, but also keep it up and running for a long time.
Exactly what constitutes "high-quality" depends on a client's budget, but every hinge should be made to withstand continued use and the elements:
Stainless steel hinges offer the greatest protection against weather and corrosion. As a bonus, they match stainless appliances (e.g. grills and refrigerators). They're perfect for high-end, designer outdoor kitchens.
Galvanized steel hinges are protected against moisture but more affordable. These are good in situations where homeowners want a more affordable outdoor kitchen, though the aesthetics and durability won't quite match that of stainless.
Combining electroplating and powder coating can protect hinges from the weather as well. These are a viable alternative to stainless or galvanized steel in a pinch.


Upgrade to Motion Control Hinges
As you design outdoor kitchens, think about where you have opportunities to innovate. Heavy-duty hinges can not only improve the overall seamless feel of the kitchen, but also reduce strain and effort. Designing with innovation with mind will set you ahead of the pack and please your end customers.
To learn more about how counterbalance hinges and motion control can improve kitchens and outdoor cooking, take a look at our motion control ebook!
(editors note: This blog was originally produced in September 2020 and updated in January 2022 to reflect new and current information)