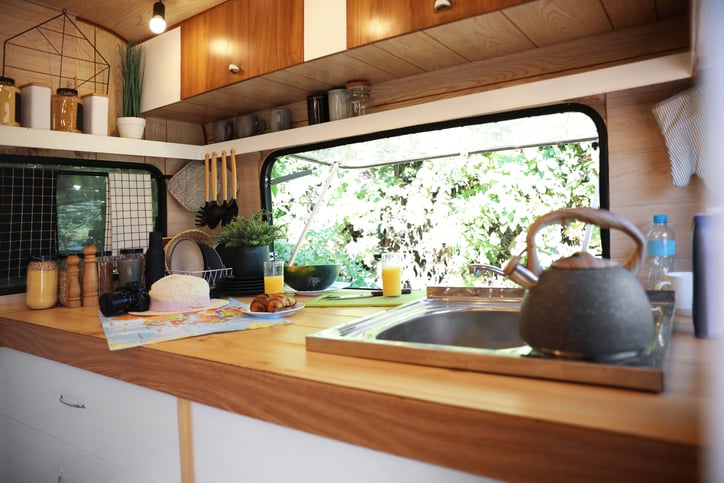 The RV kitchen – a space where efficiency, practicality, and design must harmoniously intertwine.
RVers want all the amenities – sink, stove, fridge, dishwasher, and counter space. However, creating a functional yet inviting kitchen in such limited square footage is challenging.
With a holistic approach to RV kitchen design and the clever use of specialty hinges, you can transform this challenge into an opportunity.
4 Small RV Kitchen Design Ideas Leveraging Hinges
Just like the heart in a body, the kitchen is at the core of any residence, mobile or stationary.
When it comes to flow in kitchen design, especially in small spaces, the "kitchen triangle" principle is key. In a thriving kitchen, there's constant movement between these three points:
Despite the constraints of space, how do you organize an RV kitchen to promote flow?
That's a tough one, and there are thousands of DIY RVers who are trying to work out that answer when they create their mobile home.
Some small RV kitchen ideas incorporating specialty hinges include:
Fold down surfaces
French door ovens
Concealed hinges
And if all else fails:
Take it outside
1. Fold Down Surfaces
Horizontal surfaces play a pivotal role in an RV kitchen, acting as the primary platform for food prep.
Despite the emphasis on incorporating appliances in a kitchen's design, a recurring theme in many RVs and travel trailers is the conspicuous lack of horizontal space. This oversight often hampers the cooking process, particularly when more than one person is involved.
Adding a fold down table or countertop with a specialty hinge adds a functional, compact, and easy-to-use surface. Lift gate assistant hinges are uniquely counterbalanced to provide a user-friendly open/close feature to easily lift a heavy countertop and confidently interact with it knowing it won't fall down.
Best of all, when it's time to get back on the road, they're securely folded away, freeing up space.
2. French Door Ovens
A French door oven can be a game-changer in an RV kitchen, offering a blend of practicality, efficiency, and style. With doors that open outwards, they provide several key advantages in the confined spaces of an RV kitchen:
Require less clearance – with the correct hinges, French doors divide the space needed to access the oven's interior, freeing up space and reducing the risk of accidental burns
One-handed opening – the right hinge (watch the video below!) opens both doors simultaneously without a chain mechanism
Consistent motion – French doors glide open and soft-close rather than "falling" open and slamming shut like typical oven doors
3. Concealed Hinges
While it might be tempting to think of concealed hinges as minimal components, they significantly influence the functionality and aesthetics of an RV kitchen with their:
Sleek, unobtrusive design – useful in tight spaces such as under-counter refrigerators or wall ovens, reclaiming space while adhering to a clean aesthetic
Smooth, fluid motion – protect surrounding pieces of cabinetry and other appliances, and open and close with ease
Durability – they should live through the life of the RV
Safety – specialty concealed hinges reduce user strain with soft open and close functionality
The Importance of Sturdy Hinges
Investing in high-quality, specialty hinges capable of withstanding the rigors of travel is essential.
When an RV is on the road, it's constantly subject to all kinds of movement – sudden starts, stops, and the occasional bumpy terrain. These motions create a significant amount of stress on kitchen fixtures, particularly the hinges that hold everything together.
4. Take It Outside
Can you add an outdoor kitchen to an RV?
Of course!
Think outside the (RV) box and incorporate various components to create a comfortable and functional space. Here are some elements to consider:
Compact Grill: The heart of an outdoor kitchen is the grill. Opt for a

compact, portable grill

that's easy to set up and offers sufficient cooking surface for your needs.
Portable Sink: Cleanliness is paramount when cooking outdoors. A portable sink with a water hook-up can simplify food prep and cleaning tasks.
Mini Fridge: A small, energy-efficient refrigerator can keep beverages, perishables, and other food items cold without taking up much space.
Foldable Countertop: A foldable countertop or table provides a flat surface for food prep or serving. Specialty hinges can help these surfaces fold away when not in use.
Storage Solutions: Clever storage solutions such as slide-out drawers or sealed cabinets can keep utensils, cookware, or dry food within easy reach.
Outdoor Lighting: Proper lighting can make cooking a breeze, even after the sun goes down. Consider adding LED lights for energy-efficient illumination.
Weather Protection: Awnings or pop-up canopies can protect the cooking area from the elements, allowing you to cook in various weather conditions.
Creating Flow in a Kitchen On the Road
With careful planning and the smart use of specialty hinges, the heart of an RV – the kitchen – can be the deciding factor in a customer's purchase.
Whether it's incorporating a fold-down surface, utilizing French door ovens, or installing concealed hinges, these strategies can significantly boost your RV kitchen design's efficiency and flow.
And don't overlook the potential of the outdoors – taking the kitchen outside can provide additional space and a unique al fresco dining experience. By prioritizing these elements in your design, you can turn your RV kitchen into a compact yet efficient space that meets all your culinary needs on the road.
Remember, a well-designed kitchen isn't just about cooking. It's about creating a hub that feels like home, no matter where that may be. Embrace the potential of specialty hinges, and see how they can transform your next RV kitchen design.
Need More Design Inspiration?
Check out our free Intro to Motion Control to learn more about using specialty hinges in your product designs: