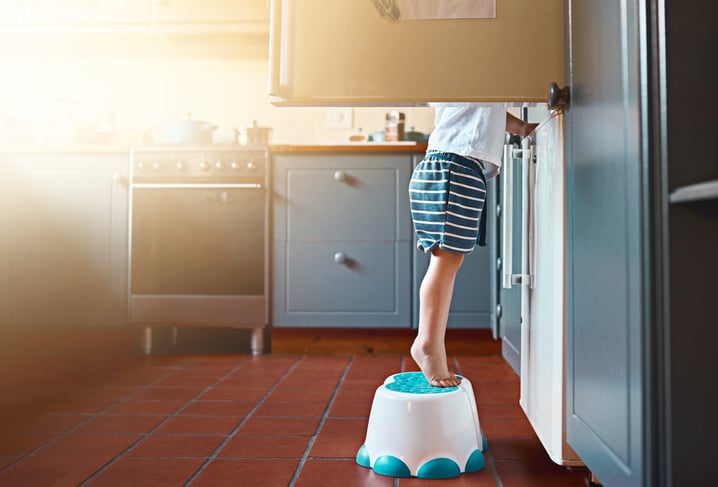 Hey, kitchen appliance designer! We know you're always looking for ways to improve the function and aesthetic of your products. Consider this trend in hardware that has huge potential: heavy-duty hidden hinges.
By incorporating hidden hinges into your designs, you can upgrade a kitchen's look while still maintaining all the functionality of traditional hinges. They're game-changers for kitchen design.
Here we'll talk exclusively about heavy-duty hidden hinges and how they incorporate sleek, modern design with tried and true utility in kitchen appliances.
Breakdown | What Are Heavy-Duty Hidden Hinges?
Several types of hinges can be integrated into kitchen appliance design. A hidden hinge, also known as a concealed hinge, can't be seen when viewing the door from the front and/or side. They lay flush against a face frame and are invisible from the outside of an appliance.
Heavy-duty hinges are engineered to handle higher weights and last through more cycles of opening and closing than traditional hinges.
Heavy-duty hidden hinges are the apex of mechanical motion control design. These compact, spring-loaded concealed hinges can have a smaller profile than other industrial hinges. The best concealed heavy-duty hinges allow for features such as:
Flush door panel mounting
Self-closing motion control
Soft open stop
High cycle life
High load capacity
By combining sleek, modern design with power and control, industrial "invisible" hinges bring a reliable, secure fit that moves effortlessly and looks great. And to top it off, using heavy-duty hardware ensures your appliance is safe to use while making an impressive statement – a perfect blend of sophistication and utility.
While they're engineered to create a seamless aesthetic, concealed hinges are also exposed to less debris and contaminants. This keeps them working smoothly longer than their exposed competitors.
4 Benefits of Integrating Hidden Hinges
Incorporating hidden hinges in your kitchen appliance design is the perfect way to combine modern aesthetic appeal with reliable performance.
These compact, lightweight door hinges are made to provide: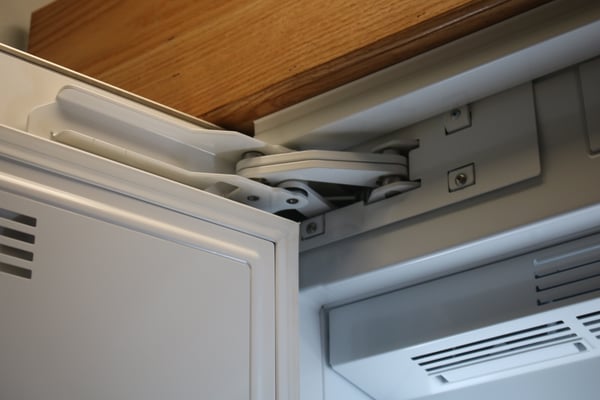 What is a Hidden Hinge on a Refrigerator?
If you're looking for an aesthetically-pleasing hinge for your refrigerator design, hidden hinges are the way to go. It takes some pretty advanced hinge design abilities to produce a legitimate hidden hinge that disappears through concealment in the body of the refrigerator and the door.
When open, a fridge door equipped with our heavy-duty concealed SI.1 Hinge does not extend beyond the refrigerator space itself. When closed, the recessed hinge is not visible, which means it not only does not interfere with cabinets to either side but also does not take away from the overall aesthetics of the space.
Take your high-end refrigerator to the next design level with our SI.1 Hinge. See it in action and learn more:
1. Maximum Durability
You're designing your appliance to last, so durability is a top priority. When you source your hinges, make sure to partner with original equipment manufacturers who build parts that last.
Concealed hinges for most applications should live through at least 100,000 cycles of opening and closing, while 300,000 cycles is more appropriate for a refrigerator hinge. Let's do some math estimations:
Fridge Door open 20/day x 365/year = 7,300 opens/year = Approx. 41 Years of Hinge Life
An "invisible" heavy-duty hinge that holds up for more than 25 years may very well outlast the appliance it's installed in.
2. Sleek, Unobtrusive Design
Q: When is a door not a door?
A: When it's ajar. (haha)
Yes, that joke is lame – but so is appliance design that doesn't account for its surroundings. Having an appliance that sticks out is literally "jarring" – it disrupts the visual flow and feel of a room.
You want to design an appliance that blends in seamlessly – lending itself to the overall aesthetic of a high-end kitchen. Incorporating a hidden hinge allows an appliance to shine for all the right reasons, such as well-thought-out design, strength, and beauty.
3. Smooth, Fluid Motion
Designing with a heavy-duty hidden hinge not only maintains that smooth, sleek appearance – it also works well to protect surrounding pieces of cabinetry and other appliances.
Counterbalancing invisible hinges use physics to control the weight and feel of heavy doors and lids. This helps them operate smoothly and predictably, so as not to accidentally swing into and damage neighboring pieces.
They lend a high-end feel to an appliance. Many consumers are now familiar with soft-close cabinets and drawers. It's a pleasant surprise to experience the same mechanical motion control features for heavy appliance doors.
4. Safety
That same motion control that mitigates the weight and feel of heavy doors and lids goes hand-in-hand with safety.
It reduces strain on a user's part, and opens the possibility for soft open and close functionality, protecting fingers from being pinched in doors. Building in hidden hinges allows you to eliminate a lot of safety concerns.
Motion control has been the source of soft-closing mechanisms for cabinet doors and drawers for years. Here are some appliances you'll start seeing concealed heavy-duty hinges in:
Refrigerators
Wine coolers
Dishwashers
Ovens
In kitchens where space is at a premium, concealed heavy-duty hinges free up more potential storage space while still allowing the door or drawer to open all the way. This makes them especially useful in tight spaces such as under-counter refrigerators or wall ovens.
For those seeking an even more modern look, heavy-duty hidden hinges can be customized with various finishes. From stainless steel surfaces to matte black colors, there are plenty of options available that will give any kitchen a sleek yet durable design aesthetic.
Leverage the Power of Heavy-Duty Hidden Hinges
Heavy-duty hidden hinges are a great way to combine modern design with reliable performance and safety. They provide maximum durability, sleek aesthetics, smooth motion control, and increased safety features.
With these advantages over traditional exposed hardware, it's no wonder more kitchen appliance designers are turning to concealed heavy-duty hinges for the perfect balance of sophistication and utility.
Maximum Durability Meets Flawless Design
Now that you know why you need hidden hinges in your appliances, what's your next step? Download our guide to learn more about incorporating mechanical motion control in your designs: