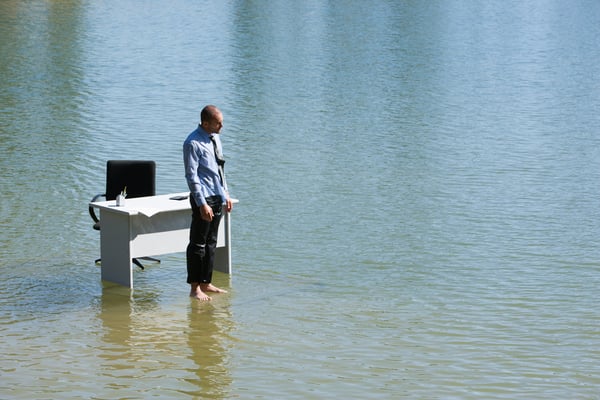 Ergonomics is about more than how you position your body. It's also about where. So it's important to consider the best office desk position, whether at home or at work.
The key to figuring out how to set up an office desk ergonomically is deciding what makes you the most comfortable and productive.
Unlike other factors involved in maintaining good posture and practicing ergonomic habits, finding the ideal desk position depends on your personality. Do your employees get distracted easily? Bored of the same surroundings?
Overwhelmed? No worries; we've compiled a handy guide to finding the best office desk position to increase your company's productivity!


Finding the Sweet Spot for Office Ergonomic Desk Setup
When you're deciding on an office desk position that suits you or your employees best, think about:
How well your team handles distractions
The lighting
The temperature
The kind of desks you should be buying


How Much Distraction Is Too Much?
For some people, a little bit of distraction is helpful for staying stimulated and energized. They need the slight distraction or background noise to be most productive.
If this is the case, consider sitting them close to a window where they can see trees, birds, or the street outside.
On the other hand, they might be prone to daydreaming and losing productivity. In that case, it's probably best to put their backs to the view.
Should you face the door so people can see you and you can see them? In a home office, this might not be an important consideration. But if you work in an environment with other people, especially if you supervise them, you probably want to face the door so they can see you and determine whether you're busy or available.
However, facing the door might also lead to distractions from co-workers or visitors in the hall or common space.
A lot of desk positioning comes down to your personal preference and knowing how well your team works in certain areas.


To Window or Not to Window?
Some factors are beyond your control. Perhaps you have lots of room, or perhaps you occupy a broom closet. Maybe your office has windows, maybe not.
If you have windows, should you face them, keep your back to them, or compromise with a side view of the outdoors?
Remember what you decided about distraction, because that will come into play where windows are involved.
If you decide to keep your back to the window, you might want to invest in blinds or curtains to minimize screen glare.
Sometimes, even if the window is far away from your desk, sunlight can still make it difficult to see your computer.


Too Hot, Too Cold?
According to a survey from CareerBuilder:
46% of workers feel their office building is either too hot or too cold
51% said their productivity has been affected because it was too cold
67% said their productivity has been affected because it was too hot
This being said, it's important to consider the heat/AC source in the room. Will employees be too warm or too cold if their desks are close to the vent?
Try keeping desks far enough away from the heating/AC vents so that your workers aren't uncomfortably hot or cold. Windows and doors can be visually distracting, but sweating or shivering is distracting too!


The Best Desk for You
If you're working from home, should you invest in a desk that fits you or your workers' specific requirements? Do you need room to spread out or just enough space for a laptop? If you're an engineer and you have rolls of blueprints, a large desk would be handy. But if you're just checking emails and doing research, a smaller desk would suffice.
You can get some good deals on used desks because lots of people have bought them to work at home, but have since returned to the company office. Try eBay, Facebook Marketplace, Craigslist, and Office Pros Online.
If you're the type of person who can't stand sitting all day (you see what we did there?) then you might consider purchasing a height-adjustable desk. Many studies show this alternative improves productivity and health.

How to Equip Your Ergonomic Office Desk
Once you've found the right desk and the perfect spot for it, it's time to set it up for the best ergonomic performance. Three ergonomically beneficial accessories come immediately to mind:
Keyboard tray
Monitor arm
CPU holder or trolley


Keyboard Tray
A keyboard tray helps you put your keyboard at the right height and angle for maximum comfort. It saves room on the desk, and you can slide it out of the way when it's not in use.
Poor keyboard setup habits are one of the biggest causes of workplace injuries, especially conditions like carpal tunnel. Learn more about setting up the optimal position for a keyboard here.


Monitor Arm
Whether you have one monitor or more, a monitor arm lets you adjust monitor height and orientation to reduce eye, back, and neck strain. If you spend a lot of time looking at a computer screen, a monitor arm can be a lifesaver.
CPU Trolley
A CPU holder or trolley can give you the security and mobility you need. You won't have to crawl under your desk to access the CPU.
Check out this video about organizing a simple desk setup for the most ergonomic benefit!
Explore Your Office Desk Position and Accessory Options
It's hard to overstate the importance of ergonomics to your health and comfort at work, whether you do that work at home or at another facility. Organizing your team's office space to best accommodate needs and comfort levels will go a long way in making employees more productive.
Interested in learning more about how ergonomics can improve your workspace? Visit our new ergonomics resource page for more info!