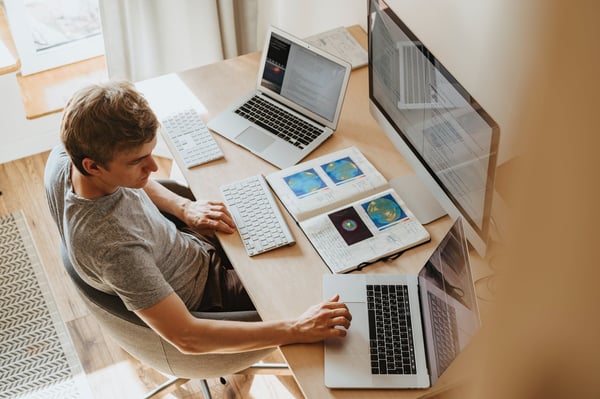 With the COVID-19 pandemic still in effect and winter fast approaching, it's crucial to be prepared for the work-from-home holiday.
For many employers, the rise in COVID-19 cases across America means sending or keeping their employees working from home.
Although working from home isn't ideal for many people, there are some ways to improve the experience, like having a dedicated remote workstation. Here's a look:


Beat the Winter Blues with A Dedicated Remote Workstation
When working remotely became the norm earlier this year, many people were forced to work with their laptop at their kitchen table or sequester away in a spare bedroom. As we move into winter and working from home again becomes more imminent, there are a few tips for making the most of your remote experience:
Dedicating an appropriate workstation
Incorporating ergonomic accessories
Take breaks and schedule time off
Consider your lighting
Create a professional backdrop


1. Dedicate an Appropriate Workspace
We can't downplay the importance of carving out an appropriate area where you can set up your dedicated remote workstation and focus on your job.
This can certainly be difficult, considering that many students are still virtually learning and family may be coming to visit for the holidays.
Even if you share a workspace with a spouse or your kids, try to at least have a quiet area that you can retreat to in order to take calls or just zone in on a project. Whether that space is a corner in your bedroom or a desk in your attic, have a place where you can shut the door and have privacy.


2. Invest in Ergonomic Accessories
Feeling burnt out or just not comfortable in your workspace? Ergonomics can help.
There are a lot of ergonomic home office tips out there, and they all focus on health and comfort. The ergonomic journey starts with having the right accessories so that you can work comfortably from your home office. Think of products like:
Height adjustable desk
Ergonomic keyboard trays
Articulating monitor arms
Chairs with the right type of lumbar support
All of these products can go a long way toward enhancing comfort and productivity in your home workspace. These accessories all help contribute to the ultimate ergonomic workstation.


3. Take Breaks to Refresh
Moving from an office space to remote working can certainly be a big transition, and working from home presents both advantages and disadvantages. Benefits? You can wear your pajamas to work. Disadvantages? Maintaining a work-life balance becomes a bit more difficult.
Make sure to take regular breaks where you can get away from your computer and refresh. Go for a walk, shovel some snow, call a friend or family member - do what you need to do so your work doesn't become all consuming.
And take time off! Working from home might seem like an extended vacation, but allowing yourself a few days to kick back and do nothing will really reset your brain and make you ready to get back to work.


4. Watch Your Lighting
Lighting is important in any type of setting, as it improves mood, boosts Vitamin D, and fends off seasonal depression.
However, getting the right amount of light can be difficult during the winter months, especially if it's reflecting off the snow and causing a glare on your computer screen.
Think about where your workspace is located. Will the window behind you glare on your screen? Will sitting in the corner upset you because there isn't a window to look out of?
A remedy for this problem might be as simple as moving your desk around or getting different blinds for your window. Regardless, finding the right balance of enough light is crucial for productivity and mood.


5. Set a Virtual Video Call Background
We've probably all been in Zoom meetings where someone's kid runs into the room or their cat hops up on the counter. While this might be amusing at times, it's more important to have a professional background.
One option is to sit against a wall or in an uncluttered area. The other option is to consider having a virtual background on display. There are options for virtual backgrounds with most video conferencing software like Zoom, Google Meets, and Microsoft Teams.
A virtual background lets you not worry about any activity going on behind you and focus solely on the video meeting.
The same goes for background noise. It can be distracting to hear a vacuum running or water running in the background, so find a quiet area for your meeting, or mute your microphone unless you need to talk.


Making the Most of Your Work-From-Home Experience
Regardless of whether you and your employees have been working from home for months or just started, these tips will help you make the most of the work from home experience.
To learn more about the power of ergonomics for improving productivity and worker happiness, check out our free ergonomics guide: