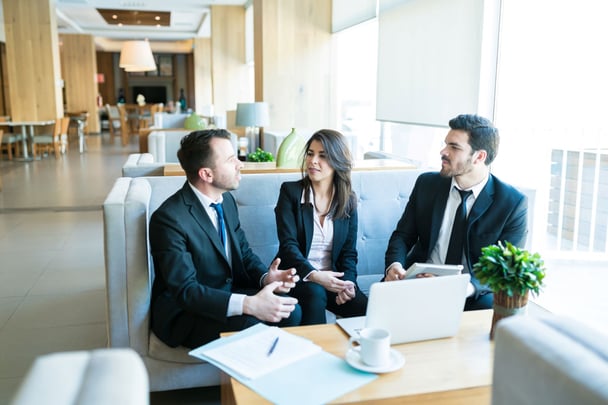 The post-COVID-19 traveler wants flexibility.
To keep up, hotel furniture design is trending toward multifunctional spaces and furniture. Gone are the days when a room or piece of furniture was used for a single purpose. Hotel rooms have become personal gyms. Hotel lobbies are meeting spaces. Even beds transform into a workstation.
After the hard hits the hospitality industry took during the pandemic, hotels that thrive post-pandemic will be those that creatively evolve with changing health concerns and guest priorities.


Post-Pandemic Hotel Furniture Design Trends
To meet the needs of the modern traveler, the hospitality industry has found ways to allow their guests to transform spaces to suit their needs. These 5 hotel design trends are sticking around post-COVID:
Multifunctional spaces
Remote work
Outdoor spaces
In-room fitness
Cleanliness on display


1. Multifunctional Spaces
Multifunctional spaces meet the varied needs of guests. For example, many hotels are furnishing their lobbies with lightweight and moveable furniture that can easily be rearranged or folded away.
Need a place to escape and watch TV? Want a workspace in the hotel lobby? Want to gather the family for a quick bite before heading out for your next adventure? Hosting a presentation? One space can be designed to meet all of these needs.
Motion control technology allows for flexible furniture arrangements. TVs and monitors can be tucked into desks and tables or mounted onto walls or poles to save space and add a luxury feel. Tables and desks can be folded away until they need to be used. A lounge chair can quickly convert into a workspace.


2. Remote Work
The early days of COVID-19 had many working from home. Hotels jumped on this opportunity to offer packages designed to attract remote workers who would rather work from hotel than work from home or in a co-working space.
Companies like Hilton, Hyatt, and Marriott offer private day-use rooms. Some offer a sizeable desk, an ergonomic chair, fast WiFi, several outlets, discounts on hotel food, access to hotel amenities, and the use of business equipment.
Because many guests do their work at the hotel, ergonomics in the hospitality industry is crucial. Hotel ergonomics isn't simply looking out for your staff; it's also about ensuring your guests are safe. Whether renting a space for a day or a month, an ergonomically designed workspace provides a more enjoyable experience for guests. Workers don't always enjoy being tied to a desk and a chair. Providing sit/stand desks allow guests to get some movement. Ergonomic chairs, adjustable monitor arms, keyboard trays, and mouse trays help guests to feel comfortable during their work stay.
Some workers may prefer to work from an even more comfortable space: the bed. An adjustable Murphy bed with adjustable back-support mechanisms and a desk that folds out from the headboard can provide a cozy workspace.

3. Outdoor Spaces
The pandemic kept people cooped up in their homes and limited where they could go. As they feel more comfortable traveling, hotel guests are looking for ways to spend time outside. Designing for outside comfort is now as important as interior design.
Guests are looking for adaptable outdoor spaces where they can relax, have fun, and get to work. Guest-pleasing trends include:
Outdoor height-adjustable desks
Ergonomic outdoor folding chair
Ergonomic outdoor chaise lounge
Laptop trays mounted to armrests that are concealable when not needed
Outdoor seating that folds up easily for storage

4. In-Room Fitness
Travelers remain weary of using hotel gyms since COVID-19 began but still want to work out. Even as public spaces begin to open up, some guests may simply prefer to exercise in the privacy of their own room. To meet this, some hotels offer to bring exercise equipment to guestrooms. Workout equipment can be paired with virtual video instruction accessed from the in-room television.
While some room sizes may make it difficult to fit larger equipment, like an exercise bike, in the room, hotel room designers can get creative with space. Fold-away desks, tables, and beds give guests the room they need to work out comfortably.


5. Cleanliness on Display
While cleanliness has always been important for successful hotels, the pandemic has made guests more cautious and aware of how clean a space is. Even before COVID-19, hotel guests rated cleanliness and comfort 36 times more important than gourmet breakfast, pool, or a high-end coffee maker.
Because of this, hotels are trending more toward hard surfaces and using less porous surfaces. Wherever possible, antimicrobial fabrics are used for furniture and bedding. Metal components on furniture are made with metals that are easily cleaned, like stainless steel and copper.


Give Guests Comfort and Peace of Mind With ANSI/BIFMA Compliant Hotel Furniture Design
Travelers working remotely aren't simply looking for a desk and a chair in their temporary hotel office. They are looking for furniture that will keep them comfortable and safe during the hours they use them. Cheap office furniture just doesn't cut it.
Purchasing ANSI/BIFMA-compliant furniture gives guests peace of mind that the furniture they use:
Meets rigorous safety standards
Reduces work-related injuries
Promotes a functional and comfortable work environment
Improves employee productivity
Is manufactured to a high quality
Pieces frequently also have at least a 5-year warranty because they're made to such high standards for safety.


Training & Awareness of Hotel Furniture
While ANSI/BIFMA-compliant furniture is built to last, proper care goes a long way to ensuring everything is in working order. Hotel staff should be trained on how to properly use and maintain the furniture and how to help guests use each piece. To keep your furniture functioning for the long term:
Train employees on how to use the furniture
Keep a written manual on how to care for the furniture
Keep spare parts on hand for quick fixes

Hotel Furniture Design: Flexibility Helps Your Hotel Adapt
Flexible hotel furniture design helps you to meet the evolving needs of your guests. Think creatively about each space and how your guests may use it. Creative solutions and forward thinking will help your hotel thrive in the post-COVID-19 hospitality industry.


Maximizing Space With Counterbalance Hinges
Counterbalance hinges help make furniture flexible, durable, and easy to use. Quality hotel furniture design can make the difference between a guest choosing your hotel or another.
Reach out today to discuss the importance of counterbalance hinges to your overall redesign of a guestroom, office space, or the other areas of your hotel.