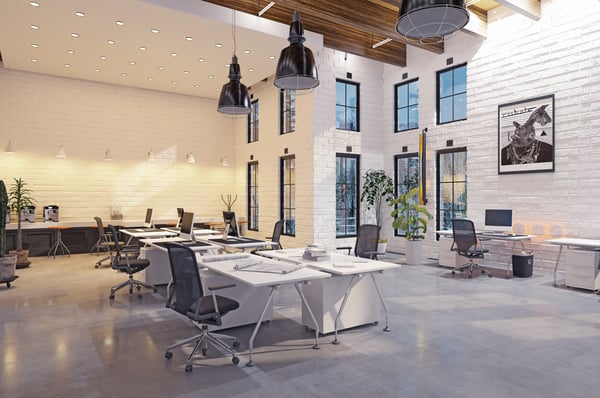 The way people are working is changing, so the modern office (or home office!) should change to accommodate employee habits.
If you're considering new office furniture, it's important to think about what your office needs. Do you need extremely durable pieces that will last for years? Do you want to prioritize comfort and ergonomics?
This blog post will elaborate on some of the most common office furniture materials and address the four things you need to consider when looking for new office furniture:
Durability
Sustainability
Aesthetics
Ergonomics


Common Materials Used for Office Furniture
The material options for office furniture are vast, but these are the most common materials (and often the best).
Standard steel sheet metal -

Steel sheet metal is very versatile

because it can be bent to fit different requirements without extensive manufacturing processes.
Phenolic - This plastic material requires less processing than MDF and is sturdier too.
Polypropylene - Often used for desk chairs, this kind of plastic is both durable and easy to clean.
Upholstery - Most office furniture is made from durable upholstery that is easy to clean whether that's vinyl, leather, or cloth.
Manufacturers have a lot of quality materials to choose from for their office furniture, but it's important to know the difference between a good material and a great one. Consider durability, sustainability, and aesthetics.


Durable Office Furniture Materials
When you are looking for materials, you obviously want to choose the ones that will last the longest. Metal is more durable than phenolic and phenolic is more durable than MDF.
Depending on how much use the furniture will get, you can determine the type of material to use.
For example, if you're looking for furniture for a high-traffic office, like a doctor's office, perhaps consider vinyl upholstery so it will stand up to repeated use.
Don't forget that you could have the most durable material available, but it can still cause injury if it is not positioned correctly. The best office furniture has the perfect blend of ergonomics, durability, sustainability, and pricing.


Environmentally Sustainable Office Furniture Materials
Manufacturers need to ensure their materials are used in accordance with all the relevant standard guidelines. These involve entry level compliance certificates like RoHS and Prop65 as well as more in-depth standards, like ANSI/BIFMA.
RoHS - Restriction of Hazardous Substances is an EU standard of regulating harmful materials/chemicals, and it's become a day-to-day standard for US manufacturers.
Prop 65 - You want your materials to be in compliance with Prop 65, otherwise your products might require warnings that exposure to the materials used can lead to cancer or other illnesses.

ANSI/BIFMA standards

- the American National Standards Institute governs material quality as well as testing standards for office furniture.
But just abiding by these standards doesn't mean the manufacturing processes are as sustainable as they can be. For example, powder coating components can be a very wasteful process, but a reclamation system can help manufacturers recover unused powder coat, which reduces overall waste. Ask your manufacturer about their sustainability!


What Are the Easiest Materials to Clean?
If you are concerned about keeping the materials clean, consider leaning toward metal, which is easier to clean than a wood surface since it isn't porous.
Plastics are usually easy to clean, too. You can wipe it clean with a damp cloth without worrying about stains getting into porous nooks and crannies.
Also pay attention to what kind of cleaners you're using -- some wood finishes might be sensitive to certain cleaners.


Aesthetics and Finish
You want your materials to look good! For this reason, a plain steel keyboard arm is going to be powder-coated or finished in some way.
Office furniture needs to be durable and functional, but it can also look good too, because at the end of the day, it's a professional environment.


A Word About Ergonomics
Don't forget to consider ergonomics when you are picking out office furniture. If you are going to spend a lot of time sitting and using the furniture, you need to make sure it is ergonomically correct, so you don't suffer any long-term repetitive use injuries.
Look for ergonomic solutions in your office furniture that will encourage mobility. The worst thing your employees can do is sit down with their morning coffee and not stand up or take a break until lunchtime. Look for office furniture that encourages movement and proper positioning.


The Best Materials for the Best Product
At the end of the day, to get the best office furniture, you need to use the best materials. Communicate with your office furniture supplier to get an understanding of what materials are going into their products.
Interested in learning more about ergonomic furniture? Check out our free guide to office ergonomics!