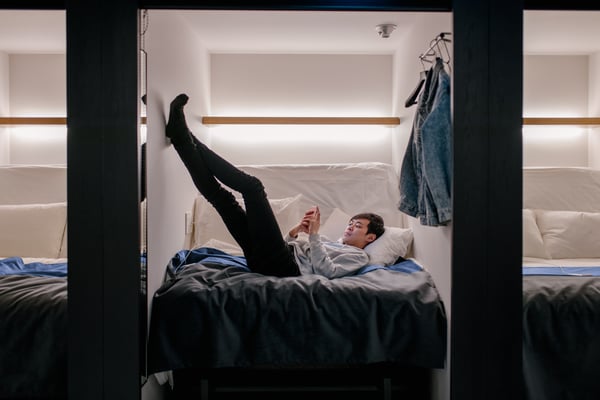 In today's hospitality world, bigger isn't always better. Yes, hotel room design is changing -- all you need to do is observe the capsule hotel trend. It's popping up throughout the world, but it's just one way designers are maximizing space while still creating a unique customer experience.
That's part of the value proposition, both for hotel owners and for guests. By incorporating space-saving design into their hotels, owners are able to create properties with more rooms that help increase their revenue. Plus, the fun design and potential affordability are a selling point for visitors.
What other design innovations are sparking conversations in the hospitality sphere? We've put together a list of six small hotel room design ideas, many of which rely on motion control:


6 Tiny Hotel Room Design Innovations
There are seemingly endless ways to save space when designing tiny hotel rooms, but here's what we think is particularly innovative, yet achievable:
Ditch the dresser
Foldable surfaces
Unconventional bed placement
Switching up the TV
Sink and storage
Removing the bathroom…?
And here's the more detailed breakdown!


1. Skip the Dresser
If your hotel isn't a long-term lodging destination, then chances are you don't need to include a dresser. Many folks live out of their suitcases and pull clothes out as needed, anyway.
Dropping the dresser means designing an overall smaller room, or adding other unique or practical features.
To keep an element of storage, include cubbies under the bed. Pegs built into the wall can also help provide a spot to hang clothes and eliminate closets from the hotel design.


2. Fold-Down Everything
Foldable furniture is a stable of tiny living, whether in a tiny hotel room, a tiny house, or a camper. Incorporate elements like:
Fold-down beds
Fold-down desks
Fold-out tables
Fold-out ironing boards
Incorporating Murphy beds and other pull-down furniture is often the biggest space-saver in hotel design.


3. Get Creative with Bed Placement
If you decide against a pull-down Murphy bed, there are other ways to save hotel room space by getting creative with bed placement.
For instance, incorporate a loft bed, which allows you to place furniture underneath it. Bunk beds are another space-saving option (that kids will love).
Try sinking the bed into the wall, with the foot level with the wall -- almost like a capsule all on its own. And no worries about changing linens -- the cleaning staff can use special bed-stripping frames to change the sheets!


4. TV Poles, Pop-Ups
Flexible furniture doesn't just mean beds and desks, but media devices too. Consider:
These space-saving and convenient ideas are ergonomic, too, allowing users to reduce strain by adjusting their TVs and monitors to how they see fit.
It's this type of innovation and convenience that wins over guests.


5. Get Creative With the Sink
Hotel bathrooms aren't the most spacious to begin with, but they could be a lot smaller if the sink wasn't so large. Include the sink in the living space, and include a counter that doubles as a desk.
Plus, don't forget about the space beneath the sink. Incorporating cupboards or drawers would make it seem less like a sore thumb and more like a seamless integration.


6. Public Bathrooms
What about ditching the bathroom altogether? As boutique and capsule hotels have shown, there's no need to include a bathroom in every guest room.
A community per-floor bathroom for all of the guests to share can go a long way toward saving space while still providing guests the amenities for a comfortable stay.


Thinking Outside the Box, but Inside the Hotel Room
So there's the rundown of how to take an ungainly large hotel room and transform it into a close, comfortable, and creative space. Cutting back on square footage will save hotel owners money in the day-to-day operations of the hotel, too! (Think heating/cooling, cleaning, and so on.)
Motion control and counterbalance appliance and furniture hinges make many tiny hotel room design ideas a reality. Check out how Weber Knapp's motion control technology brings fun and luxury to the hospitality industry!