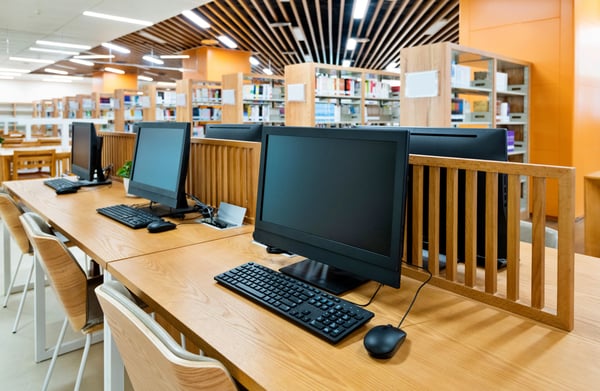 Have you ever walked into a library, sat down at one of the computer stations, and wondered, "How could anyone ever use the monitor in this position?"
Ergonomics solutions are growing more popular for library supervisors and museum curators who are paying careful attention to both the health and safety of their patrons and staff.
Everyone should be able to move about freely without experiencing physical stress or strain. Employees included -- which is why book lift mechanisms are a big deal.
Fortunately there are many ergonomic solutions for everyday activities that are user-friendly and durable enough to stand up to the wear and tear of everyday use in a public environment.
Check out the list below.


Book Lift Mechanisms and Other Ergonomic Solutions
In the past, we've discussed ergonomic solutions for the workplace as well as home offices, but the true beauty of ergonomic accessories is their versatility. The main focus of ergonomic furniture and accessories is to supply comfort and ease-of-use, and that's not restricted to any one place.
Some of the products that add comfort and user experience to libraries and museums include:
Book lift mechanisms
CPU holders
Adjustable monitor arms
Height-adjustable desks
Mobile workstations
Children's ergonomics station
Ergonomic keyboards


Vertical Lift Mechanism
Library and museum employees are constantly moving items from one place to another, which can damage valuable assets.
This problem is most often seen with library book return bins. Many patrons drop off books, DVDs, and magazines through the library book drop. They may fall several feet, and can easily sustain damage.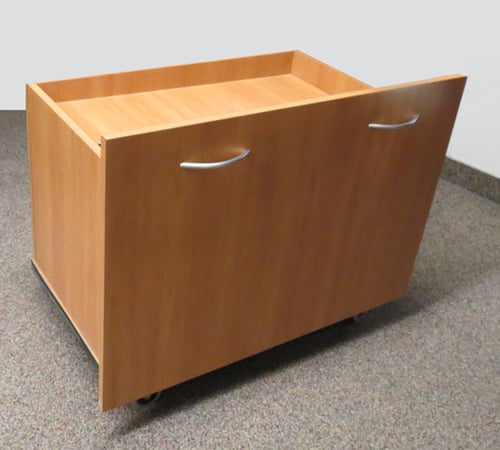 Librarians then move the items from the bin onto a fixed-height library book return cart to reshelve them, which can cause back strain from repetitive bending and lifting.
The solution for these antiquated library book return systems is a book lift mechanism that automatically adjusts its height according to weight. It lowers as patrons place items on it, and lifts as librarians remove them for shelving.
This way, library staff members can simply exchange one book lift for another, and can easily wheel the book drop bin about the library.


Lockable CPU Holders
Since libraries and museums now offer computer resources to patrons, there are many updated computerized library integrations. While the experience should be comfortable, libraries and museums still need to protect their valuable assets. A CPU holder that locks in place, for example, can ensure that it doesn't walk off by itself.


Adjustable Monitor Arms
While your home and office monitors might stay in one place, multi-user workstations mean that monitors must be suitable for everyone -- from small children to tall adults. Ergonomic monitor arms are adjustable, affordable, and provide greater comfort.


Height-Adjustable Desks
A manual or electric sit-stand desk mechanism gives users the flexibility to adjust desk heights to their comfort.
Additionally, for employees who might spend all day at their desk, the ability to stand while still getting their work done is a convenient and healthy change of pace.

Mobile Workstations
Employees might be away from their desks but still need computer access, such as when taking inventory. A CPU trolley and a scanner for conducting inventory can provide the perfect solution for workplace mobility.
Another application of computer carts with a scanner on wheels is for ticketing at special events.


Children's Area Ergonomics
While a lot of ergonomics experts primarily focus on adults in the workplace, children can benefit from ergonomics, too!
One particularly useful accessory that comes to mind is wall mounts for iPads or tablets. They keep the technology accessible, but not in danger of being dropped or broken.


Ergonomic Keyboards
To avoid neck strain and carpal tunnel injuries, try ergonomic keyboards. They help maintain better posture and skeletal alignment.
Just like adjustable monitor arms, ergonomic keyboards are adjustable and can conform to fit a variety of users' needs.


Ergonomic Solutions for Any Environment
While these are some of the many advanced solutions for libraries and museums, the possibilities don't stop here. Engineers are always innovating ergonomics solutions using:
Kinematic motion
Mechanical spring counterbalance
Spring assist technologies
In the end, the main goal is to improve user experience, promote productivity, protect employees, and preserve valuable assets.
To learn more about how ergonomics can help your business, check out our new ergonomics resource page!