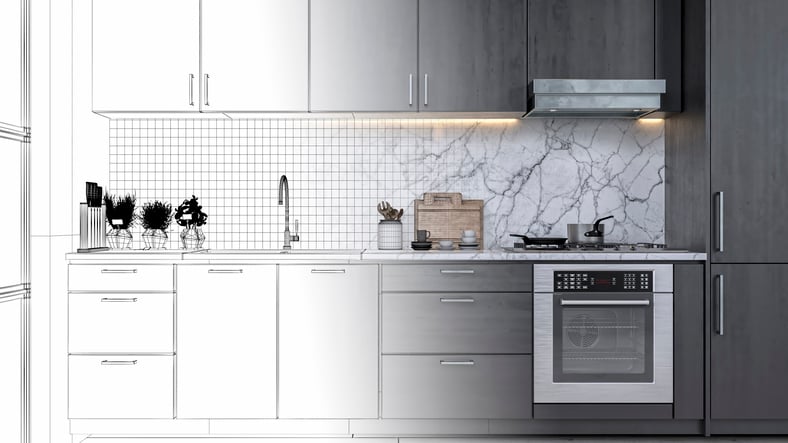 It's a pretty well-established fact that industry professionals tend to neglect themselves when it comes to their crafts.
Does your hairstylist have perfectly coiffed hair every time you see them, or are their own tresses in need of some attention?
Does your general contractor have an ideal home, with all their improvement to-dos "to-done," or have they been too busy taking care of everyone else's houses?
How about your mechanic – what are they driving?
You're a kitchen designer, so let's do a mental exercise and imagine you can redesign your own kitchen with anything you dream for appliances, cabinets, and furnishings. You can integrate all the smart-tech you want. The sky's the limit.
But in your fantasy kitchen, are you thinking about components that often go unnoticed, such as hinges and other mechanical motion control solutions? Probably not. But you should.
Motion Control in Kitchen Design
The way an appliance is built, especially how it uses mechanical motion control for its components to move, often goes unnoticed. Leaning in to examine something so nondescript as an appliance hinge, you'll see they affect an appliance's:
Placement
Appeal
Flow
Safety
It stands to reason then that improved hinge design enhances a user's overall experience in the kitchen.
Placement
First and foremost, the placement of hinges on an appliance affects both where it goes in a kitchen and how much space it takes up. Motion control is important for considerate placement of appliances and how they open and close. It's also important in a room that is notorious for always needing more creative counter space and storage solutions.
The right hinges also create cabinetry with doors that fold, lift, or fold AND lift; or even hideaway in pocket enclosures.
They make french doors on ovens possible as well as space-saving features like lifting countertops and fold-away workspaces.
What about integrating a monitor lift into a countertop to hold a smart tablet or television for following recipes or streaming shows while in the kitchen?
The possibilities are truly endless.
See Weber Knapp's motion control solutions in action:
Appeal
Is minimalist, sleek, and modern your thing? Or maybe you're more of a cottage-core traditionalist?
Whether you're going for Scandinavian, industrial, or maximalist, integrating the right hinges in your designs lends appeal in all schools of thought.
Efficient use of space and functionality rule in any design.
One great way to achieve that combination of efficiency and functionality is by using concealed hinges.
Concealed – or hidden – hinges give designers more flexibility in their creativity. Counter-depth refrigerators and wine fridges can either stand out or blend in, depending on your designing desires.
Hidden hinges make it possible to mount appliance doors flush to a frame for a clean outer appearance while maintaining strength and durability.

Flow
What do you imagine hearing in your dream kitchen? The susurrous of a gently simmering pot on the stove? The occasional whoosh of water from the faucet as you rinse a cup? The jump-inducing thunderclap of a cupboard door slamming? Or the L-train rattling of all your fridge contents as the refrigerator door careens shut.
Motion controls that are smooth and silent create a peaceful, inviting atmosphere.
Modern technology has significantly improved the flow and movement of kitchen appliances with motion control for soft-open and soft-close solutions. It's called damping. As an opening or closing door or lid increases in speed, an added motion control mechanism can increase the resistance so it closes softly and smoothly.
Counterbalance hinges provide weight mitigation and allow users to partially open a heavy lid, countertop, or door and leave it partially opened. These motion control hinges allow you to specify exactly how softly they open or close, and at what degrees of motion.
This kind of flow – smooth, silent, controlled – lets consumers know your product is well-designed and high quality.
Safety
With motion control, kitchen doors and lids can open slower or softer, making them safer for people of all abilities. Those same hinges that lend appeal and flow to a kitchen also make user experiences safer.
Spring-assisted and counterbalance hinges mitigate the weight of heavy doors or lids. This helps lift and move them with less force. Using less force reduces repetitive strain on users.
They also allow users to open a heavy lid or countertop pass through and leave it partially opened without fear of it slamming shut – potentially on fingers. Thoughtful hinge design helps prevent injuries.
Designing with the right motion controls is also a good move toward universal design. From the National Disability Authority:
"Universal Design is the design and composition of an environment so that it can be accessed, understood and used to the greatest extent possible by all people regardless of their age, size, ability or disability. An environment (or any building, product, or service in that environment) should be designed to meet the needs of all people who wish to use it. This is not a special requirement, for the benefit of only a minority of the population. It is a fundamental condition of good design. If an environment is accessible, usable, convenient and a pleasure to use, everyone benefits."
As we become more aware of the spectrum of abilities of different people, and we begin designing products for people of all ages and abilities, we all reap the rewards.
Aging In Place
Another trend on the rise along with universal design is aging in place – the choice to continue living in a home as a person's needs and abilities change with age.
More adults are choosing to modify and remain in their homes as they age for cost savings, comfort, community, and even sentimentality. And some younger adults are opting to build or modify their homes now with designs to address mobility and strength issues in the future.
Single story ranch homes with ADA accessible kitchens and bathrooms are becoming more popular as buyers are planning to age in place and may need wheelchairs, walkers, or canes to help them get around.
So what does this mean for your appliance design?
Many consumers are thinking ahead. You should be, too.
Design your appliances to meet the needs of a huge portion of the market with heavy-duty hinges that make appliances easier to use and are:
Safe
Durable
Long-lasting
By anticipating your buyer's future requirements, they will choose your product to age in place with them.
Motion Control in Your Dream Kitchen
How is your dream kitchen shaping up now? Are your creative juices flowing?
Remember to keep the importance of motion control front-of-mind in your designs.
Mechanical motion control in kitchen design is essential for the efficient placement, aesthetic appeal, flow, and safety of appliances. By leveraging motion controls such as concealed hinges or counterbalance motion, you'll create a more user-friendly environment that meets the needs of people of all ages and abilities.
Ultimately mechanical motion control engineering helps open new possibilities in designs – allowing users to maximize their spaces efficiently without sacrificing style or safety.
Learn More About Designing With Motion Controls
Download our free Intro to Motion Control and Counterbalancing for Product Design to learn more about how you can make that dream kitchen a reality: