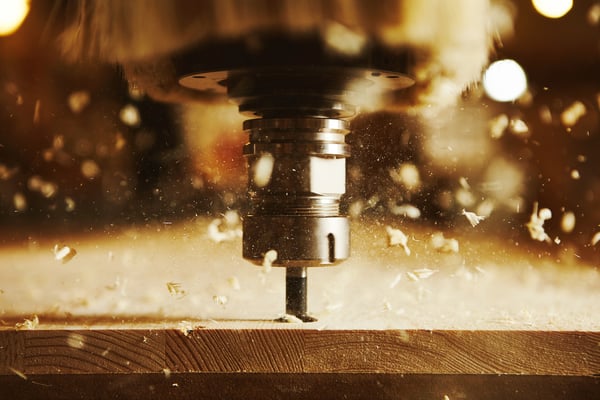 Mechanical motion control manufacturers power up their machining equipment every day. CNC milling machines are creating detailed work, and jig routers are making deep cuts.
So what's the role of a CNC router machine in all this? Many manufacturers offer router services to supplement your machining needs.
Read on to learn more about the benefits and capabilities of CNC router services!


Why Choose CNC Router Services?
It can be difficult to create, compile, and process the necessary pieces in-house to fully assemble a project. If you've reached a point where it's a pain to conduct all your machining processes in-house, know that by outsourcing your CNC router needs to a third-party provider, you can achieve:
Faster turnaround
Greater freedom in specifying part requirements
Cost-efficiency
CNC routing services are a fast and accurate operation. A traditional router is used to create rounded edges, cut precise angles, or hollow out various materials. A CNC (computer numerical control) router brings the latest technology and precision to the process. These advanced computerized capabilities aid in the cutting of a wide variety of materials, while increasing operator productivity and reducing waste.


What Is a CNC Router Machine?
Routing adds contours and smooth edges to the piece via a milling head attached to a computerized system. A CNC router table works by maneuvering a mill or router bit across the material to be machined, which is held down on a vacuum table to ensure 100% accuracy.
A spoilboard, usually made of MDF (medium-density fibreboard) ranging from 1" to 1.5" in thickness, provides a vacuum seal to hold the workpiece and has built in relief for the cutting tool/bit around the profile of the tray or workpiece.
CNC offers a great deal of automation and control over the entire process, leading to fewer routing errors.


What Can CNC Router Services Do for You?
Whether your manufacturing components are small or large, a single-source manufacturer can often easily adapt its CNC router services to meet your needs with accuracy and consistency.
A good example of a highly capable, modern machine is the Komo Mach III CNC router. It's equipped with a dual-head, 18 HP motor, which operates at 24,000 RPM. The larger models can process standard, 5' x 10' sheets as well as longer pieces. The 15 position automatic tool changer adds the versatility to accommodate more complex projects. These machines can cut and profile several CNC router materials, including:
Phenolic composites
Wood
Plastic
Laminate
Different color options are available for all materials. CNC routing machines can rout aluminum too, but chip/waste disposal can be difficult depending on the router set-up.


Outsourcing Your CNC Routing Needs
Typical projects where it makes sense to outsource CNC router services include trays, mouse pans, tabletops, blood draw tablets, and other ergonomic products. Depending on your manufacturer's capabilities, it may also accept custom routing projects, such as sliding trays for medical carts or anything with a unique size or shape.
When looking to outsource your processes, make sure that you consider a full-service company. You may be able to bundle in other services to save lead time and transportation costs, such as:
Progressive die stamping
Robotic welding
Testing
Prototyping
Assembly
Finishing services (i.e. electroplating and powder coating)
Not all hinge manufacturers are created equal, and Weber Knapp breaks the mold by offering all of these machining services, as well as design assistance.
To learn more about single-source manufacturing, check out our free e-book: