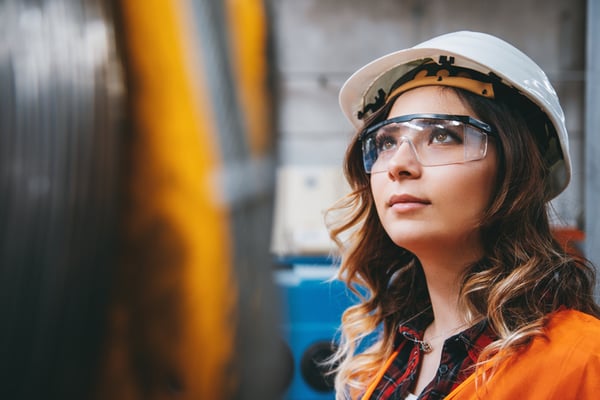 Whether you're seeking ergonomic equipment, counterbalances, or spring-assist hinges, ensuring your motion control manufacturer has your best interest and success in mind is of top priority.
With stringent manufacturing and regulatory requirements and environmental standards, you can rest assured that working with onshore motion control manufacturers means you're getting top-of-the-line engineering, manufacturing, and shipping processes, setting you and the end-user up for greater success.
Today's motion control manufacturers located in the USA keep systems in place to ensure the security of design ideas, source material lists, and general operations. These systems keep the entire manufacturing process ethical and safe.
Entering a relationship with a manufacturer that plays fast and loose with rules and regulations can be disastrous for your IP. But safety and security are just two of many reasons that buying American is not only patriotic but also highly practical ...
6 Benefits of Working With Onshore Motion Control Manufacturers vs. Offshore
The benefits of onshoring your manufacturing fall into six broad categories:
Improved reliability and ethical practices
Greater speed and consistency
Better communication
Cost-effectiveness
Reputation
Quality
1. Reliability, Safety, & Ethical Practices
We've already covered the need to have strong security safeguards in place to prevent cyberattacks. However, being a trustworthy motion control manufacturer goes well beyond that.
Intellectual Property
Whether you're designing a heavy-duty hinge for military or defense applications or purchasing ergonomic products for high-profile clientele, trade secrets are respected and kept confidential in the U.S.
Working with an ethical manufacturer that understands the value of your ideas and follows strict, mutual non-disclosure agreements that will keep your intellectual property safe.
Conflict Minerals
Broadly speaking, conflict minerals, including but not limited to tantalum, tin, tungsten, and gold and their derivatives, are used to finance conflict in the Democratic Republic of Congo and nearby nations. The use of these minerals in products is legally and ethically wrong.
However, some manufacturers outside the United States ignore these rules to boost sales. Working with onshore motion control manufacturers that are certified and compliant with conflict mineral rules ensures that your products are ethically, safely, and responsibly sourced and produced.
Hazardous Chemicals
Hazardous chemical regulations play a large role in the design and manufacturing process for motion control manufacturers located in the United States. Ergonomic equipment in offices needs to abide by several standards, including RoHS and EPA indoor air quality certification.
While RoHS is a directive of the European Union, the same standards apply for manufacturers within the United States looking to sell EU to customers. RoHS compliance ensures that your manufacturer is not using lead or other potentially dangerous elements in the production of your equipment.
The U.S. Environmental Protection Agency's Indoor Air Quality Certification ensures that the equipment being produced won't expose the end-user to toxic fumes from volatile organic compounds (VOCs) introduced in the manufacturing process. These toxic chemicals are common in plywood, particleboard, and other pressed or manufactured wood products. VOCs commonly found in office products include:
Benzene

Ethylene glycol

Formaldehyde

Methylene chloride

Tetrachloroethylene

Toluene

Xylene and more
The EPA has established that composite wood products must comply with formaldehyde emission standards. Outside the land of the free, these standards don't necessarily apply.


2. Cost-Effectiveness
With a mixture of COVID-related lockdowns, a worker shortage, and complex government regulations, We've seen a massive increase in the cost and time of overseas shipping.
Due to COVID-related shutdowns and loss of manpower, what used to cost less than $5,000 per container to ship can now cost over $20,000 and have 8 to 12 weeks or more lead time. Mix in the backlog in international shipping, higher-volume orders are required to make buying from overseas cost- and time-effective.
This kind of high-volume buying is hardly in line with just-in-time manufacturing philosophies. It demands a lot of factory/storage space and can result in wasted inventory and capital.
And then there are the tariffs. Tariffs are an unavoidable part of buying goods overseas from countries without free-trade agreements. Ongoing international tension also increases tariffs from and between country to country. Working with onshore motion control manufacturers removes this added cost and headache.
3. Speed and Consistency
If the past 2 years have taught us anything, it's the fragility/volatility of the international shipping industry.
International COVID-related lockdowns slowed the production and shipment of various household and industrial goods. The Suez Canal blockage cost the global trade economy more than $9 billion per day. Even today, shipping or receiving anything from international waters can take weeks to months to arrive.
Working with an onshore motion control manufacturer removes several of those factors from the equation.
Decreased lead and shipment times due to national shipping lanes (auto and rail vs. overseas), and increased quality and consistency due to high manufacturing and engineering standards, are benefits to expect when partnering domestically.
4. Communication Barriers
Time zones and language can be significant barriers to effective communication. Such communication is, of course, essential to success in any business.
Trying to do business with a company that's half a world away can be aggravating for both sides. Holding a conference call with a company in Asia, Australia, or even eastern Europe means someone is going to be up in the middle of the night.
Not even the almighty internet can avoid time. Few business people are checking their email or text messages at 3:00 a.m. Unfortunately, that doesn't change the need for an immediate answer to a potential crisis. Sometimes you can't wait 12 hours for a response.


5. Reputation
Branding your product as "Made in the USA" still carries weight and is considered a declaration of quality.
(It's a shame that many customers also equate "USA-made" with "high-cost." This assumption is sometimes true, but isn't always fair.)
To label a product "Made in the USA" or "Made in America," you have to meet pretty strict standards, and a certain percentage of the parts in your product must be American-made.
"Made in America" is particularly important to companies that work with the U.S. government and have GSA (General Services Administration) Advantage accounts. These companies are on a list of suppliers who are qualified to work with the government. They, in turn, need suppliers who also meet GSA standards.
6. Quality
In the end, quality is what should matter most. Purchasing ergonomic equipment from an onshore motion control manufacturer ensures that your components or products are ANSI/BIFMA-tested and -compliant.
Products that are ANSI/BIFMA-recognized tend to offer outstanding:
Durability
Safety
Sustainability
When you purchase a product made in the United States, from USA-made parts that comply with American safety and ethical standards, it's usually a good thing. We're willing to bet the product will last longer and function more reliably in most cases.


Join the Made-in-USA Movement
These truths apply to most American companies, not just motion control manufacturers. It's important to find out whether your industrial hinge and ergonomic products manufacturer has your back by asking questions about:
Cybersecurity
Ethical practices
Safety
Shipping and packaging
Raw material sourcing
Failing to address any of these links in your supply chain can negatively affect not only your business but your customer's too.
Weber Knapp is a leader in motion control engineering and manufacturing. Have questions about integrating motion control into your products? Ask one of one our engineers below:
(Editors Note: This blog was originally published in August 2019, and was updated in September 2021 to reflect new information and updates in the market.)