At first glance, you might suspect that the only place you're going to see a Vectis™ Counterbalance is in an industrial setting, perhaps mounted on an enormous machine shield, or maybe some type of oversize industrial tank lid.

But, Vectis™ Counterbalances have so many possible applications, across a vast array of industries. If you were to look more closely, you'd find variations of Vectis™ Counterbalance Hinges and Vectis™ Custom Counterbalance Hinges on all sorts of interesting, everyday equipment:
Smoker grills
Oven doors
Headboards
Weber Knapp's Counterbalance History Through the Years
So, what industries are a good fit for Vectis™ Counterbalance Hinges? Let me take you on a quick trip down memory lane and reveal where you might have seen Weber Knapp counterbalance hinges over the past 50+ years…

Weber Knapp first stepped into the springloaded counterbalance hinge business in the early 1960's. Back in those days, you could find Weber Knapp counterbalance hinges (more commonly called backmount supports) on stereo HIFI cabinets. These patented hinges were used by companies such as RCA and General Radio and were a staple in most American living rooms in those days.

The 1970's saw us branch out into the office equipment industry where we launched a wide variety of custom designed and shaped counterbalance hinge systems. Most of these patented hinges were used on photo copiers. Companies like Xerox, who were ramping up production and manufacturing updated versions of their product, sought the help of Weber Knapp to provide them with an answer to controlling the lid motion of these machines.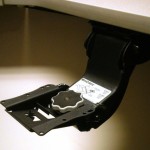 The 1980's and 1990's found us continuing to design counterbalance hinges for additional office equipment applications such as check sorting equipment, computer printers, and overhead projectors. We also found ourselves applying counterbalance technology to meet the growing demand for keyboard arm supports, split work surface mechanisms, height adjustable counterbalanced tables, and monitor lifts – all of which were designed and sold to various office furniture manufacturers. If you worked in an office during these two decades, you may have encountered our counterbalance technology or even used it!

Throughout the 2000's, Weber Knapp continued to diversify its counterbalance offerings by diving into medical laboratory equipment, food packaging equipment, tanning beds, kitchen appliances, document storage cases, and healthcare furniture, just to name a few.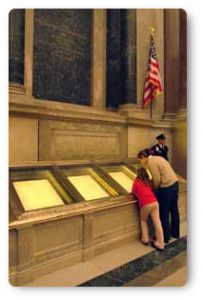 If you've taken a trip to The Rotunda of the National Archives Building in Washington, D.C. you've seen the display cases housing the Declaration of Independence, the Constitution, and the Bill of Rights. Custom springloaded counterbalance hinges from Weber Knapp make it easier to open and close those massive lids on the cases protecting the "American Originals" document collection.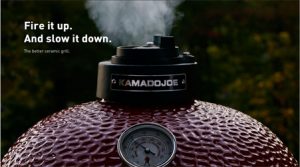 Most recently, we formed new alliances that took us into the high end grill and smoker grill industries, working closely with Hestan Commercial – using Vectis™ Custom Counterbalances.



So, if you think about it, you have probably already encountered a Weber Knapp Springloaded Counterbalance Hinge - maybe even in your own childhood living room! And if you haven't seen our products in the field, keep watching, you never know what industry we'll break into next...perhaps, it might be yours.