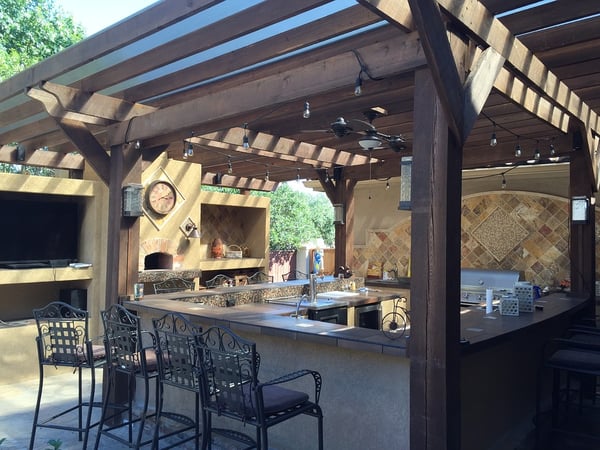 Summer is the season of grilling, sun, and -- for a growing number of Americans -- fancy backyard fun.
After living the hermit life in 2020, the entire world was ready to kick back and relax around the grill. However, innovation doesn't take breaks, and you've got work to do. Especially since 82% of American homeowners say they are more interested in updating outdoor living spaces than they were prior to the pandemic.
There are many opportunities to improve and innovate the functionality of an outdoor kitchen. Shoring up safety, reliability, and convenience will ensure that your designs don't just help an end-user relax, but also enhance the safety and convenience of entertaining and outdoor fun. If you're a professional looking to take a custom outdoor kitchen design to the next level, hinges are pivotal for making the ordinary incredible.
The Right Hinges for Your Custom Outdoor Kitchen Design
First, some general insight on hinge design for outdoor spaces.
Storing and using equipment outdoors can wreak havoc on components that are already being tasked with heavy-duty lifting and pivoting. Weather conditions, especially in coastal areas where salty moisture lingers in the air, can dictate the need for corrosion-resistant hinges.
Corrosion-resistant hinges tend to come in three groups. Powder coating is cost-effective and can come in 1,000s of colors, depending on your vendor. Stainless steel heavy-duty hinges resist corrosion at a higher level (and price point), while also looking strikingly beautiful. Inconel is for the most intense jobs and carries an equally intense price tag. Inconel spring assists are sometimes used when there's no other option that can handle the level of heat in the application.
(Whatever you do, just don't use gas springs.)
Then there's the sun. If you're designing a product that's likely to be left out in the sun, consider a UV-resistant hinge powder finish. This will prolong the durability and aesthetics of your product.
5 Places Where Custom Outdoor Kitchen Design Is All About the Hinges
Custom outdoor kitchen equipment is meant to be a social fixture and conversation starter. You need reliability, durability, and functionality in your design without sacrificing aesthetics. Here are five areas where custom outdoor kitchen design can put a great hinge to use:
Cabinetry
Countertops
Grills & appliances
Beverage storage
Seating
Cabinetry Hinges
Outdoor cabinetry design can't rely on the same assumptions that indoor design can. Climate control and a dry, safe environment is not a guarantee for outdoor kitchens, and your hinges need a higher level of functionality for cabinetry and storage doors.
Again, when it comes to outdoor design, heavy-duty stainless steel hinges are more common than their standard steel counterparts anyone could grab for $3 at a hardware store. As for the types of hinges you'll see in outdoor cabinetry, multilink, 4-bar, or linkage hinges can offer as much or more reliability compared to single-pivot models. They ensure stress is spread out across the hinge for long-term reliability.
For access point doors that house large necessities like a propane tank, you can use multiple pivot points or a wide swing radius for improved convenience. Using this strategy, your doors can clear openings better and allow easy access for, say, replacing the propane tank. Motion control engineering is a great way to avoid that familiar feeling of "square peg, round hole" in a small space.
Countertop Hinges
Countertops may not seem a high priority for hinge innovation. But there are plenty of benefits to including counterbalance hinge technology in your outdoor countertop design.
Outdoor kitchens are dynamic spaces. More so than indoor kitchens, they need to adapt to different gatherings and purposes. Incorporating counterbalance hinges into outdoor kitchen countertop pass-throughs can massively increase the versatility of your project.
Whatever material you choose for your outdoor kitchen countertop idea -- quartz, granite, or something else -- your hinges must lift and hold it consistently and safely. That way your customer has a quick, versatile solution for their counter space without the repetitive strain of lifting a 100-lb. object.
Hinges for Grills and Cooking Appliances
Hinges are critical points of design for many components of built-in outdoor kitchen appliances.
When you're talking about outdoor cooking appliances, the immediate consideration for hinge performance is durability in the face of extreme heat. Naturally, you need reliably heat-resistant hinges that don't degrade quickly over time.
And with a little counterbalancing, grill and smoker lid hinges can open and close softly so every member of the family can grill safely and without heavy lifting. This not only ensures a safer design, but also a more sleek and luxurious feel.
Beverage Storage, Wine Coolers, and Mini-fridges
Outdoor storage boxes for beverages or food are what distinguishes your design from a simple patio setup to a high-level custom kitchen that will be the envy of all the customer's neighbors. Smooth, consistent, waterproof hinges guarantee the life of storage containers so that they continue to offer convenient storage and functionality for years to come.
Under-counter refrigerators with motion control hinges can open and close smoothly for added convenience and reduced stress from lifting. Meanwhile, beverage bin lids can be heavy to lift, and they can sustain wear and tear over time from repeated opening by thirsty guests. Incorporating counterbalance hinges or other, similar outdoor spring hinges protect the product from degradation and keeps the open/close motion smooth.
Seating
Space can be a major concern when designing an outdoor kitchen, especially in densely populated neighborhoods. Seating needs to be dynamic enough to account for crowds without monopolizing the space.
Fold-down seating is often the best of both worlds. Waterproof and weather-resistant hinges on outdoor seating can increase versatility and functionality. If your buyer plans to spend hours per day outside (perhaps while working from a laptop), you should also consider ergonomic chair designs.
With proper counterbalance hinges, tables could even be converted to fold-down solutions for a more expanded open space. Why take up space with a fixture that's only used some of the time?
Engineering Tips for Custom Outdoor Kitchen Design
Outdoor entertaining and cooking is a tradition as old as mankind, but after 2020, the world became more interested in custom outdoor cooking solutions than ever. With everyone ready to get together again, a striking, custom outdoor kitchen design is in high demand.
There are many ways to innovate for functional, safe, and gorgeous outdoor patio, porch, and kitchen designs. If you have a question about the specs or safety features of your design, ask an engineer via the button below: