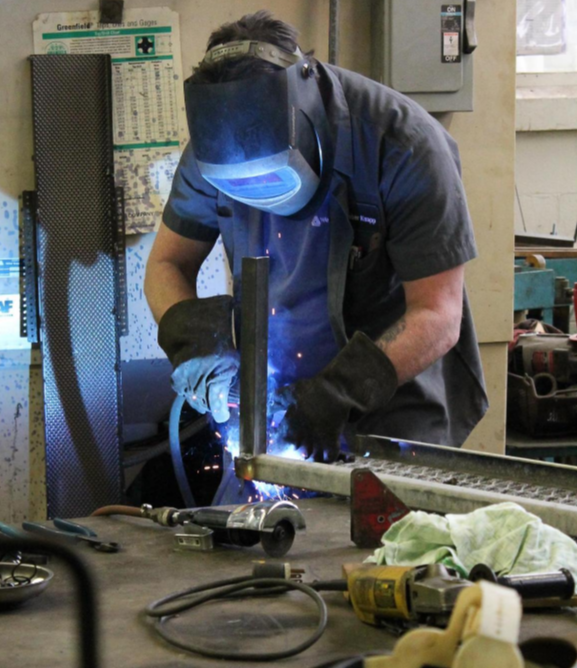 There's nothing like taking your idea to a full-service manufacturer and getting a complete solution, start to finish.
Mechanical motion control is a way to make your product innovative, safe, and convenient to use. But it's a complicated thing, and you need more than just a "hinge manufacturer."
Engineering teams need a fully integrated product design and manufacturing partner who will nurture their idea, design it, build it, test it, and deliver it.
But what does that actually mean? The following is not just a list of Weber Knapp's capabilities, it's also a guide to the benefits you can squeeze out of a full-service manufacturer.


More Than a 'Hinge Manufacturer': Get the Most out of Mechanical Motion Control
For more than 100 years, Weber Knapp has designed, developed, and manufactured mechanical hardware and kinematic motion control devices for major companies worldwide.
Every motion control supplier promises quality. You can streamline your supply chain and communication channels by expecting much more than just that.
Our idea of end-to-end management includes:
Mechanical hardware design & manufacturing
Kinematic motion control device engineering
Raw materials sourcing & processing
Prototyping & testing
Finishing
Assembly and packaging
Product warehousing & shipping
Nearly all of our manufacturing processes are performed in-house. This offers you further control over production and lead times.
Who Makes Sense for Full-Service Hinge Manufacturing?
Most of your motion control hinge needs can be met at Weber Knapp. If you need a custom solution engineered for your specific needs, we can innovate from scratch.


Industries Served
Weber Knapp products include custom multi-link hinge assemblies, counterbalances, lift mechanisms, and other mechanical motion control devices.
Motion control solutions can benefit many product types, including:
Hospitality
Medical
Ergonomics
Industrial
Outdoor & professional kitchen
Agricultural
Transportation (including marine)
Any product looking to stand out and innovate


Volume
We support low- and high-volume production quantities. We can provide a single prototype, or several.
It's all up to you, although our expert team will also make recommendations based on decades of experience.


Design Support Capabilities
Bringing a new product to market is a challenge. Solving legal issues in an existing product is an even greater one. We can cook up something innovative for your new design or solve safety issues with your current build.
By being vertically integrated, we become an extension of your team, sharing technology and contributing to the design of your product through collaboration.
Our engineers have extensive experience in designing and manufacturing mechanical hardware and motion control mechanisms. Your file type should be no issue -- we have the latest SolidWorks CAD software, capable of:

3D solid modeling
Finite element analysis
Animations
Product renderings
Open communication should be a staple of any supplier-OEM relationship. We give feedback and expect it in return, and your concept is reviewed with you once it's ready.
Weber Knapp provides a direct line of communication to the engineering team to foster a positive working relationship.
Vectis Technology
For those who need patented, advanced technology, call on Vectis.
Maybe your application requires the absolute precision of counterbalance technology. Or maybe it simply needs a feather-light open or close feature on its lid. Our patented Vectis Technology will get you started on a solution.
For those who like to visualize their components as early as possible, try the Vectis DYO app on our website You can choose from our four models and fully customize them in our easy-to-use proprietary program.
Machinery & Tolerances
CNC Fiber Laser Cutting
Our two 4kW CNC laser cutting machines provide you with extreme precision at amazing speeds. The Prima LGf 4kW - fiber laser CNC cutting machine and the Prima Laser Platino CO2 laser CNC machine are capable of producing highly complex shapes and runs at a single axis speed of 170 m/min (6,693 in./min).
Their versatility allows for processing a great variety of materials and thicknesses:
Laser-Cutting Capabilities at Weber Knapp

| | |
| --- | --- |
| Material | Maximum Thickness |
| Steel | 1" |
| Galvanized steel | 0.25" |
| Stainless steel | 0.5" |
| Brass | 0.375" |
| Aluminum | 0.5" |
| Plywood | 1" |
| Phenolic | 0.25" |
| Acetal (Delrin) | 0.25" |
| Acrylic | 0.25" |
CNC Hydraulic Press Brakes
Whether your components are large or small, a single-source manufacturer should be able to adapt.
From our 10'-bed, 175-ton press, down to our small-but-mighty 40-ton press with its 40" bed, we have the industry-standard forming tools necessary to operate with precision and consistency.
From steel to aluminum, we can tackle a thickness range of 0.035" to 0.250" with limited acute tooling for thinner stock. We carry a large inventory of die sets to meet part bend requirements.
As in all engineering-driven products, accuracy is critical. Cincinnati press braking equipment affords us incredible ram repeatability of +/- 0.0002 inches.
More stats on our Cincinnati equipment:
175-ton press with 120" bed
90-ton press with 96" bed
40-ton press with 40" bed
The materials we most commonly form on this press are:
1008 steel
1010 steel
4130 annealed steel
304 annealed stainless steel
6061 aluminum
5052 aluminum
The presses' stock thickness range is 0.035" to 0.250". It uses standard 90° tooling.
Progressive Die Stamping
Our 14 reciprocating presses span a tonnage of 300 to 32 tons and provide an efficient means to form complex parts for large runs, whether by punching, coining, or bending.
We handle a coil stock range thickness of 0.020" to 0.250" with a maximum width of 20".
Production flexibility and cost minimization is the top goal of our in-house coil slitting operation. We purchase steel coil stock gauges in standard widths and then slit in-house.
Coil-fed automatic presses
1 300-Ton Minster E2-300-72-42
1 100-Ton Minster P2-150-54
3 100-Ton Minster P2-100-48
1 100-Ton Minster P2-100-42
1 75-Ton Minster No. 7
1 60-Ton Minster No. 6
Manually-fed presses
1 110-Ton Bliss C110
1 75-Ton Minster No. 7
1 60-Ton Minster No. 6
1 45-Ton Minster No. 5
2 32-Ton Minster No. 4
Materials commonly stamped include:
Hot rolled steel
Cold rolled steel
Stainless steel
Acetal (Delrin)
Nylon
260 brass, half hard
CNC Turning Centers
Our five Swiss-type CNC automatic turning lathes can process round stock up to 1.25" in diameter. We also have a CNC turret lathe capable of turning bar stock up to 2.5" in diameter.
Both types of turning centers can produce complex parts with exceptional quality and surface finish.
More on the machines:
2 Citizen L20 Series (7-axis) Swiss-type lathes
2 Citizen A20 Series (7-axis) Swiss-type lathes
1 Tsugami BO326-II (8-axis) Swiss-type lathe
1 Okuma 762-SB (2-axis) turret lathe
Materials commonly turned include:
12L14 steel
1215 steel
C1018 steel
303 stainless steel
416 stainless steel
Acetal (Delrin)
Nylon 66
360 brass
C932/SAE660 bronze
MIG Robotic Welding
Do you have high-volume needs? We have three 7-axis MIG robotic welders. Their 48" dual tables allow separate programs to be run on each side.
Robotic welding equipment is capable of coordinated motion and weave welding. It produces strong, consistently welded joints.
We also have manual MIG welders to support low-volume products and prototypes.
To maximize throughput, each robotic work cell includes a dual reciprocating rotary table, which allows operators to load and unload assemblies as the robots weld.
The machines are:
2 Fanuc ARCMate 100i with 54" reach
1 Fanuc ARCMate 100iC with 64" reach
Commonly welded materials include:
Hot rolled steel
Cold rolled steel
Stainless steel
CNC Routing
Our Komo VR 510 CNC router, guided by GE FANUC 180i controls, can cut and profile a variety of materials.
The CNC router has a dual-head 16 HP motor, which operates at 18,000 RPM and can process sheets as large as 5'x10'.
Its 8-tool changer adds the flexibility to accommodate more complex projects.
The materials most commonly processed through CNC routing are:
Phenolic composites
Laminate
Wood
Plastic
Finishing
Hinge finishes are important to many applications. Finishing improves the surface of metal, which makes it more resistant to rust, corrosion, and wear for your extreme-temperature or chemically harsh product. It can also make a product look great!


Powder Coating
One plus about powder coating lines is that they're incredibly environmentally friendly. Powder coating produces a finished surface that's resistant to chipping and wear, and the technician can suck up stray coating for reuse.
Weber Knapp offers 1,000s of powder coating colors. Additionally, our color spectrophotometer helps ensure excellent color matches, every time.
Electroplating
We perform electroplating for small bulk process parts, using materials such as:

Copper
Brass
Black oxide
Nickel
Zinc
Antiquing options for brass and copper, as well as vibratory deburring, are available to enhance the quality of the finished product. A complete environmental water treatment system is housed within our facility.


Prototyping
Having our own model shop allows for fast prototyping during the development of your motion control design. We provide you with the prototype for your own use and internal testing.
Using a single-source partner for prototyping helps cut down on lead time and reduce backtracking to ID and fix issues.


Testing
It's ideal that the same hinge manufacturer that's making your parts tests them as well. It'll understand the product better than a stranger, after all.
Weber Knapp operates its own test facility, equipped for both static and dynamic product validation. Our automated test lab runs 24/7 to validate and prove our solutions.


Post-Production Services
When we said single-source, we meant it. Your hinge manufacturer should continue serving you after the counterbalances come off the line:
Assembly & value-added services: We offer an array of services to help our customers get to market, including product assembly, packaging, kitting, and labeling.


Shipping: Customers rely on us to drop-ship their warehoused inventory.


Warehousing: Not everyone can store 10,000 components in their facility at the drop of a hat. We offer customers a way to maximize order quantity without worrying about holding excess inventory in their own facilities.


Looking for an All-in-1 Motion Control Solution?
Partnering with a full-service manufacturer for mechanical motion control goes beyond simply working with a hinge manufacturer.
A comprehensive manufacturing solution requires an integrated approach from start to finish, encompassing product design, engineering, manufacturing, testing, and delivery.
Weber Knapp, with over 100 years of experience, is your turnkey solution for kinematic motion control device engineering, raw materials sourcing and processing, prototyping and testing, finishing, assembly, and packaging, as well as product warehousing and shipping.
Reach Out to an Engineer
Our team of design engineers boasts nearly 90 years of combined experience. We can examine your production process and recommend design-for-manufacturability, finishing, and other supply chain solutions:
(Editor's Note: This blog was originally published in December 2019 and was recently updated.)