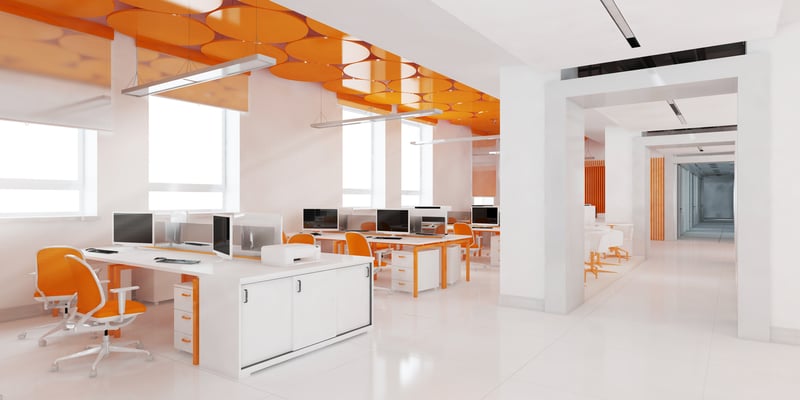 When you're talking about office furniture, comfort and durability are as important for a workplace as safety and security. Staff members in many industries spend a large portion of their lives using supplied furniture, and ensuring their health and productivity increases ROI while reducing worker's comp claims.
Discomfort and poor posture hurts productivity but also threatens the well-being of your most valuable resource -- your team. Providing the right tools to do the job is important in any workforce. Here's why it's so important to find office equipment that complies with ANSI/BIFMA standards.


What Is BIFMA Compliance?
BIFMA is the Business and Institutional Furniture Manufacturer's Association who creates voluntary standards for safe working environments. Historically it's been a roadmap for manufacturers to ensure ergonomics and quality. However, a March 1, 2021, update added formal requirements for furniture to be BIFMA compliant.
While the changes can be confusing, BIFMA has uploaded guides to its website, along with a portal for manufacturers to join the registry of BIFMA-compliant partners.
These new office furniture ergonomic standards, coupled with this new registry to validate compliance, will create a more universal standard for ergonomic office furniture. The benefit? It'll be easier to find products that protect the health of your employees.


2021 Changes to ANSI/BIFMA Standards
Though the core of the compliance program remains to increase ergonomic sustainability and quality manufacturing of office furniture, additional requirements have further refined manufacturing standards. This new update not only holds manufacturers to a higher standard, it also helps ergonomic equipment suppliers ensure the products they're selling are up to par.
A new credit has been created to meet minimum levels of structural integrity and ergonomic sustainability. ANSI/BIFMA compliance now requires compliance with the Low Emitting Furniture Credit on all approved products to ensure environmentally sustainable practices. Refinement of existing credits also increases ergonomic standards on ANSI/BIFMA-approved products to further improve postural health for employees.
A further requirement of the new standards moves the compliance process from a simple checklist to in-house ISO certified lab testing or outsourced validation.
While testing was previously required only on select products, that scope is expanding.
While this may be a speed bump for many manufacturers without in-house ISO certified testing capabilities, the change was announced over a year before its effective date. This delay between announcement and effect has given manufacturers time to find solutions through in-house testing labs or outsourced solutions.


In-House Testing vs. Outsourcing Testing
Though many manufacturers are poised to test on products in-house, many companies simply don't have the infrastructure. Luckily, third-party partners can help these companies comply with these new standards.
For example, at Weber Knapp, this change caused some reflection on how to proceed. Not wanting to sacrifice in-house infrastructure used to manufacture high-quality products, we've decided to outsource our now-larger volume of product testing.
Developing systems to test these products in-house is a large investment, and our outsource testing partner already has the expertise and bandwidth to take on more compliance testing. While this does mean more outsourcing costs, the new standards greatly increase the quality and credibility of our products. The increased outsource volume provides more opportunities to our partners.
Outsource testing is easier than it may seem. Turnaround time is 2-4 weeks on testing for a new design, though COVID-19 has slowed this process in some cases. To start the process, the product is sent to the partner lab along with basic product info and the materials involved. The receiving facility is fully optimized to test products and send back a full report to prove ANSI/BIFMA compliance.


Ergonomics Changes
ANSI/BIFMA exists to ensure the ergonomic and postural health of personnel who use this equipment on a daily basis. With that goal in mind, ANSI/BIFMA has refined ergonomic standards. These developments place further requirements on manufacturers to foster the health of office workers and encourage long-term productivity for those who purchase the equipment.
Though many regulations have changed, some specific changes to common product types include:
A few select ISO standards are also under review, most notably ISO 19682, ISO 7170, and ISO 7173
The BIFMA G1 Ergonomics standard, originally crafted in 2013, is also receiving significant review. The organization hopes to have ANSI approval very soon. This will have large implications for ergonomic furniture manufacturers, but will ensure more ergonomically sustainable products in the future.


ANSI/BIFMA Standards: Demanding a More Comfortable Future
Though these changes are sweeping, the delay between announcement and enacting these updates, as well as the numerous resources offered by BIFMA, should help to make the transition easier.
Ultimately, better office furniture ergonomic standards will improve the day-to-day for millions of workers across the United States, which should be the goal of every manufacturer and ergonomic equipment supplier.
To learn more about what ergonomic equipment is right for your workplace, check out our free guide!