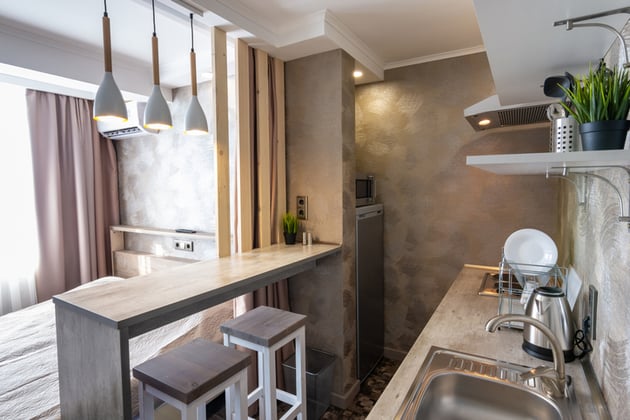 Driving down a country road, you're probably going to see more small hotels and motels than huge chains. Even around major cities, new small hotel room design ideas are trending left and right.
Around the world, today's customers have a heightened sense of -- and expectation for -- the "experience" factor of a purchase. That's true for the packaging of an eagerly awaited online order, a sit-down at a themed restaurant, and so much more. Hotels and motels are especially feeling the pressure of creating that special experience.
"Experience" can mean different things to different people. For vacationing folks, it means comfort and luxury. For business travelers, it means convenience and reliability.
To deliver big-time "experience" in a tiny package, you'll need some innovative hotel room design ideas. Mechanical motion control is an eye-popping way to add form and function to an otherwise-mundane feature of a cramped space. However, because these convenient and space-saving features require complex hinge design engineering, you'll need a collaboration-minded supplier to succeed.
Open and consistent communication improves:
Lead time

Cost efficiency

Quality
Whether you're a hospitality designer, direct buyer, or distributor, share these product details with your motion control solutions expert:
8 Small Hotel Room Design Factors Your Manufacturer Needs to Know
Contracting your engineering and manufacturing needs should be a two-way relationship! Conversations to have with your motion control equipment manufacturer include:
Footprint

Load management

Durability

Storage

Ergonomics

Aesthetics & luxury vs. practical

Environmental safety

Missed opportunities
1. Product Footprint
The manufacturer needs to know what kind of space it's working with.
What are the dimensions of your product? How much space do you hope to add by adding a motion control solution?
Heavy objects may require a large, bulky hinge, in which case the manufacturer may recommend a concealed hinge so it isn't intrusive.
No equipment or casegood is an island, so explain the big-picture relationship of your product to the rest of the room. Even if the hinge manufacturer is only working on one element of your room, sharing context benefits both sides. At bare minimum, explain:
Layout/size of the room
Where in the room the product will go
What other items will be close by


2. Load Management
How heavy-duty of a hinge design does your product need? This will determine the type of hinge design guidelines (spring assist, counterbalance, etc.) your vendor will follow.
Clearly communicate your product cover's or door's:
Surface dimensions
Weight
Desired hinge action & features
You may also prefer a certain "feel" when a user opens or closes a hinged door or cover. A manufacturer with a design engineering team can customize the opening/closing speed and "stay" of your door or cover at various points along its range of motion. For example, the vendor can customize a countertop hinge to make a 100 lb. flip-up door feel like 10 lbs., 5 lbs, or another number.
3. Durability
Is the product something visitors will use several times daily? Once a day? Perhaps never, if it's more luxury than necessity? How often is the room used in general?
A motion control manufacturer's engineering team can customize a hinge's life cycle to your specs. (Naturally, more durability = higher price.)
Convey how much "traffic" your product will get so you're not replacing or repairing the hinge prematurely.


4. Storage
The best small hotel rooms are built by obsessing over multifunctional design.
If you're struggling for inspiration, ask the contractor how your product can accommodate extra storage or free up space. There may be opportunities you hadn't thought of, but the manufacturer may have already helped a past customer with.
Creative storage solutions don't just make a small room more functional; they also bring that "neato!" factor visitors love.


5. Ergonomics & Safety
Optimizing for ergonomics in the hospitality industry is an exercise in mindfulness: Not everyone is there for leisure and luxury!
Need comfy accommodations for business travelers? Make sure your manufacturer's or distributor's products account for hotel ergonomics. Users of hotel computer rooms and business centers will appreciate ergonomic and adjustable:
TV mounts

Computer monitor arms

Keyboards

Mouse trays

Chairs

Ergonomic design is wonderful for hotel staff's convenience too -- and for decreasing injuries and insurance claims! Heavy lifting is a common culprit for wear and tear, so ask about how motion control can ease repetitive tasks for housekeeping and other departments.
Again, designers on both sides should review how to counterbalance and mitigate weight, especially in applications like:
Pass-through bar tops and kitchen countertops

Murphy storage beds with lift-up hinge mechanisms

Fold-away tables




6. Aesthetics & Luxury vs. Practical
If your design will be highly visible, you don't want to tarnish that with an ugly addition. Tell the manufacturer how you envision its solution fitting in with the rest of your small hotel/motel design.
For harsh end-use environments, avoid finishes and colors that are tough to keep looking clean (yuck) or easily corrode over time (double yuck). A manufacturer can create unique textures and colors via powder coating to blend your hinge seamlessly into your design.
(Alternatively, consider a concealed hinge design if you require a bulky device that'd look unsightly on your product.)
Luxury is about more than just aesthetics. If you want to wow people staying at your hotel, smooth, high-end motion control features may be a better choice than basic solutions. Be proactive about helping the supplier understand your wishes, and it can build a custom motion that wows 'em every time.
Don't be shy about communicating the opposite, too. If practicality and budget is more important than showing off, let your supplier know!


7. Environmental Safety
Guest rooms are rarely the primary source of environmental hazards in a hotel. Still, certain features may require a discussion with your vendor about safety.
For example, if you have a tiny kitchen in the room, specify heat-resistant hinges in ovens and discuss the direction/function of swinging the door open. Also, in any application that's food-adjacent (like a prep table in the communal kitchen/lobby), ask for hinge technology that doesn't leak toxic chemicals.


8. Missed Opportunities
Do you realize just how many places you can add motion control? If you and your manufacturing partner have a good thing going, ask about other ways to upgrade your products:
Hotel sleeper chairs – Patrons with kids or unexpected company can unfold this instant slumber party as needed. A well-engineered sleeper chair can not only save space, but also – gasp – be comfy.


Pop-up monitors and TVs: Users can pop these genius devices out of the desk and push them away when they no longer need them. A clever manufacturer can integrate them into any desk or table, as long as there's space. Ask about a "touch latch" feature – this lets users simply touch the device to activate the rising motion until the lock catches.



Outdoor hospitality spaces

: Clever mechanical hinge design is just as welcome in outdoor equipment! Examples include pass-through breakfast bars and fold-out picnic tables.
Tiny hotel rooms are just like tiny houses: Every piece of furniture or equipment is a chance to add value.


Setting Your Small-Hotel Plans in Motion
These tips for working with a motion control manufacturer can help you set and meet a realistic project budget and timeline. Some suppliers offer testing and prototyping to further validate your model; keep this in mind when choosing a partner.
Most of all, remember that every element of your room is an opportunity! To learn more about improving guest experience with motion control, see our Hospitality page: