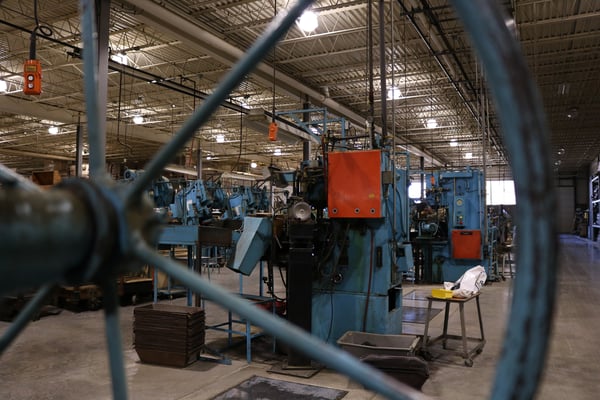 Not all manufacturers get to boast that they've been around for a century. But Weber Knapp can, and it's thanks to our dedication to innovation and diversity. The technology has transformed since the 1900s, and so has the way we optimize your product.

Keep reading to learn more about how our design expertise and the magic of "lean" manufacturing helped build a firm foundation for growth.


From Furniture to Hinge Manufacturer
In the early 1900s, Adam Weber set up shop in Jamestown, New York and started the Weber Mfg. Co. Eventually, he started making decorative furniture trim and accessories for the large number of furniture manufacturers located in Jamestown.
Soon after opening Weber Mfg., Adam Weber partnered with Ed Knapp, a former member of the Grand Rapids Brass Co., a well-known furniture maker. The addition of Ed Knapp opened up many doors for the newfound manufacturer, and the company grew throughout most of the 1910s.
But one thing that makes Weber Knapp memorable is its custom hinge design -- so when did that start? In 1918, actually.
Weber Knapp Co. applied for its first patent -- stay mechanisms for heavy lids. Years later, it started to manufacture hardware for a wide variety of furniture, everything from kitchen cabinets to phonograph cases.


Heating Things up With Counterbalance Hinges
As Weber Knapp continued to grow, so did the catalog of hinges. The 1960s saw the addition of hinges for Magnavox television consoles and the in-table Singer sewing machine.
A little while later, Weber Knapp saw that customers wanted more counterbalance hinge ideas and partnered with Xerox to manufacture motion control solutions for heavy photocopier lids.
At that point, counterbalance hinges became Weber Knapp's signature product. Putting its engineering knowledge to the test, Weber Knapp developed proprietary software/technology that eventually made its way into:
Medical centrifuges
Scientific equipment
Industrial toolboxes
Deli and restaurant food display cases
Medical slide preparation devices
Tanning beds
Grills and smokers
Flip-up countertops
The possibilities of counterbalance hinges and other motion control technologies are endless, and working with Xerox really opened the door to experimenting with customer solutions in other industries.


Motion Control for Ergonomics
In the late 1980s and into the 1990s, the office furniture industry needed a shake-up.
Ergonomic furniture was all the rage (and still is), and counterbalance/motion control technology fit in perfectly with the philosophy of ergonomics.
Weber Knapp's first ergonomic office product was one of the only adjustable keyboard trays on the market, made in 1984. That same product is still in production today!
In the early 2000s, to fill the public's need for more widely available ergonomic accessories, Weber Knapp partnered with EZ Office, an ergonomics manufacturing company in Taiwan. Today, the partnership has brought many useful ergonomic accessories to the market, including:
CPU holders/trolleys
Keyboard arms
Keyboard trays


Not Just a Hinge Manufacturer
While counterbalance hinge manufacturing has become the foundation for Weber Knapp's renown, we recognize the customer saves time, money, and frustration by single-sourcing its project.
Aside from motion control and ergonomics equipment, Weber Knapp is a robust contract manufacturer with a plethora of capabilities.
Weber Knapp is one of the only hinge manufacturers in the USA that puts its spare capacity to work, with hardly an idle machine to be found! And when you partner with Weber Knapp for a contract job, you get the same design experience and cellular manufacturing prowess that a counterbalance hinge job would get.


A Strong Foundation for a Strong Future
It's virtually impossible to survive in the modern manufacturing world if you're not versatile and flexible. Many manufacturers close down because they are unwilling to adapt or find new solutions for old customer problems.
We're fortunate to have a dedicated team who are all specialists, but at the same time, flexible and willing to learn and grow into new positions. Paired with our well-honed, self-invented processes, Weber Knapp is looking toward a bright future.
To learn how Weber Knapp alleviates the strain of manufacturing components in-house or outsourcing to several contractors, check out our new resource page!